August 10, 2021
An Auction Trip Unlike Any Other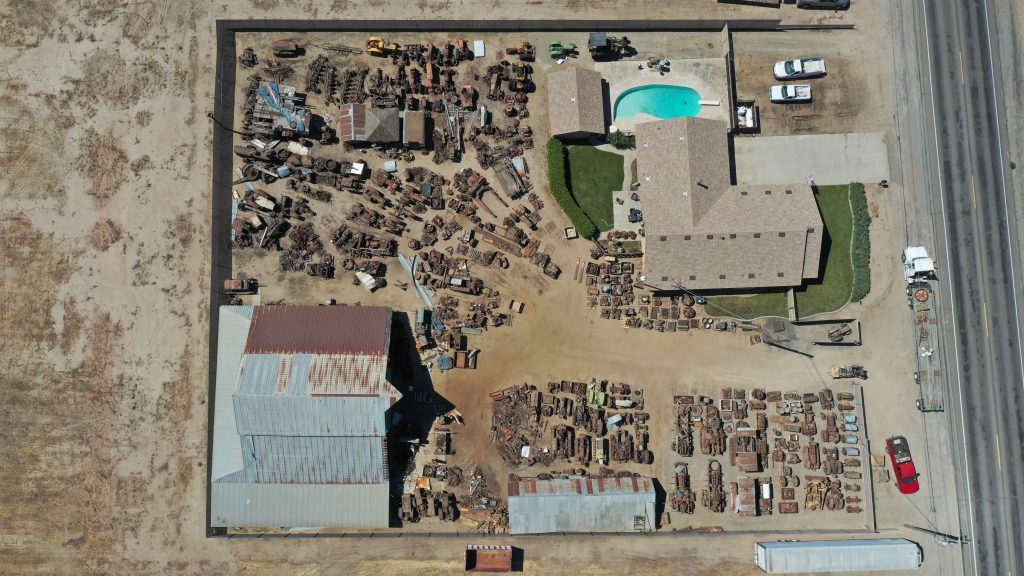 The temperature was 88 degrees Fahrenheit when we arrived in Ripon, California, but by the time we left 5 days later it reached a blistering 108 degrees. We were in Ripon to meet with the Baker family who are selling their family collection with Aumann Auctions. The goal of the trip was to move, sort and organize the collection in preparations for the online only auction this October.
As we drove up the first thing, we saw was an Oil-Pull Rumely Model F most of which rose above the fenced in property like a majestic giraffe. The remainder of the collection was hidden behind a sold chain linked fence.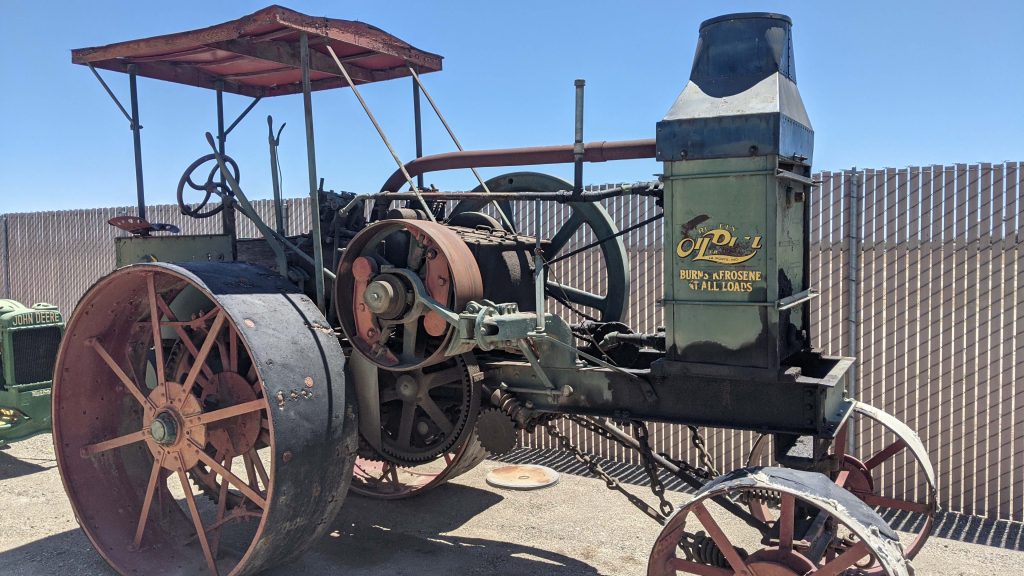 We walked through the gate passing by a line of Holt engines, Holt crawlers, Holt 75 project tractors, various antique tractors plus more old iron than you could count. We headed inside a barn where we met Scott and Brian the sons of Irvin Baker.
Irvin Baker was born in 1939 on a cold wintery day in Ocheydan, Iowa. Irvin was the eldest son from a family of six children and grew up on a dairy in Holland, Minnesota. In his twenties he decided to move to Ripon, California where he met his future wife, Judy. Judy and Irvin were married for 52 years and had 3 sons, Scott, Brian, and Allen. Irvin owned and operated Baker Fabrications for 40 years building equipment for the almond industry and later worked in construction. He passed away at the age of 80 in November of 2019.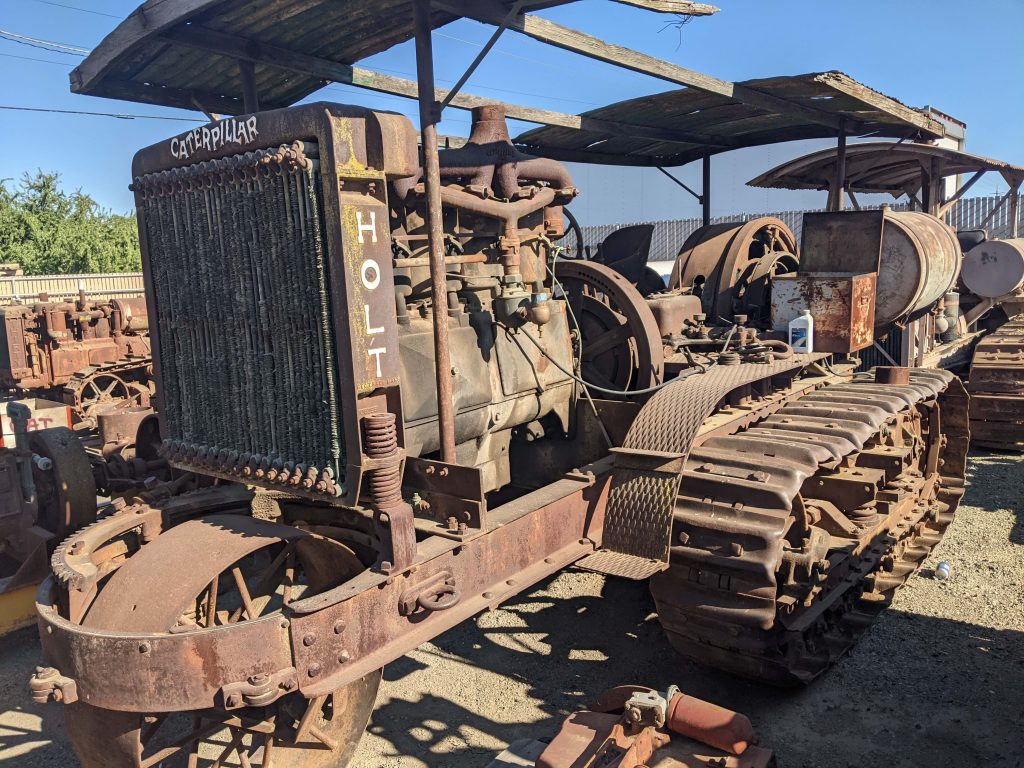 Irvin was a pioneer collector, who quickly saw the significance of these early machines and the importance of preserving them for future generations. Along with his family, he gathered old iron from across the country, focusing on artifacts from Holt that were built close to his home in California.
Inside the wood sided barn, a lot of work had already been done by Scott and Brian. One side had been cleaned to the floor with some parts and pieces stacked about. The other side was yet untouched. An orchard variation of a Rumely Oil-Pull sat amongst an array of different shop related and not so shop related items.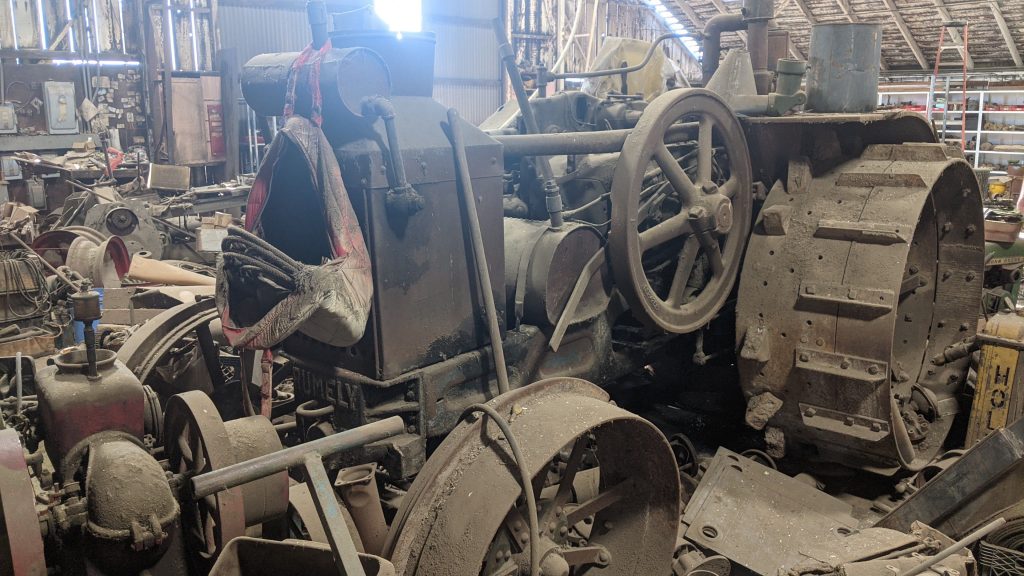 Scott and Brian built shelves on one side of the barn to make it easier to organize and photograph the small parts selling on the auction. And there was A LOT of parts!
Scott took us over to the "Mag Safe" a welded steel box with a heavy metal door and pad lock. He opened it up to show stacks of magnetos from floor to ceiling, everything from KW high bar magnetos to single cylinder gas engine magnetos.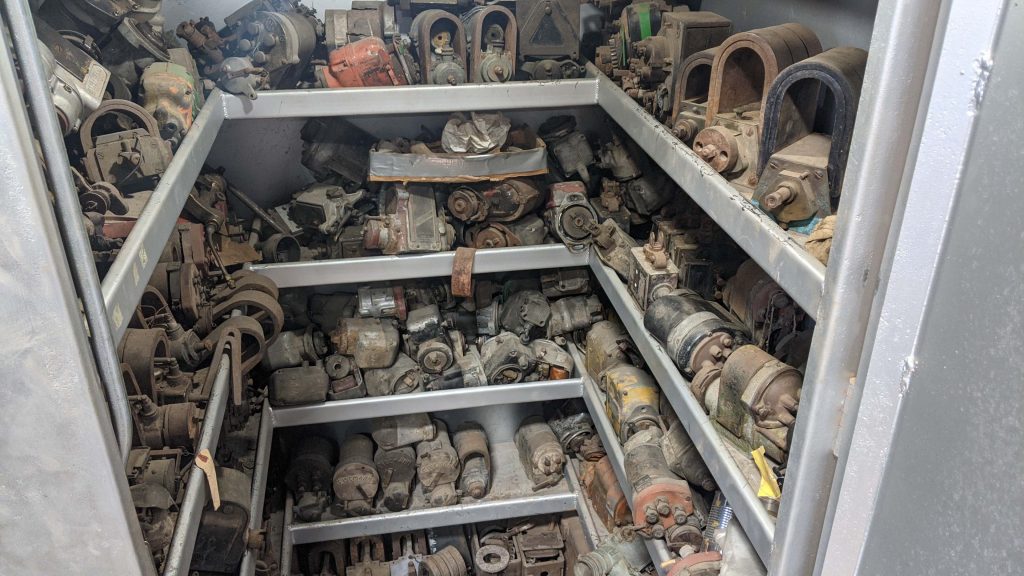 Against the far back wall were parts and pieces from Holt and Harris engines. One large pile of parts came from a Harris dealership. It included new old stock parts including cam shaft, pistons and rods, cylinders, and cylinders heads.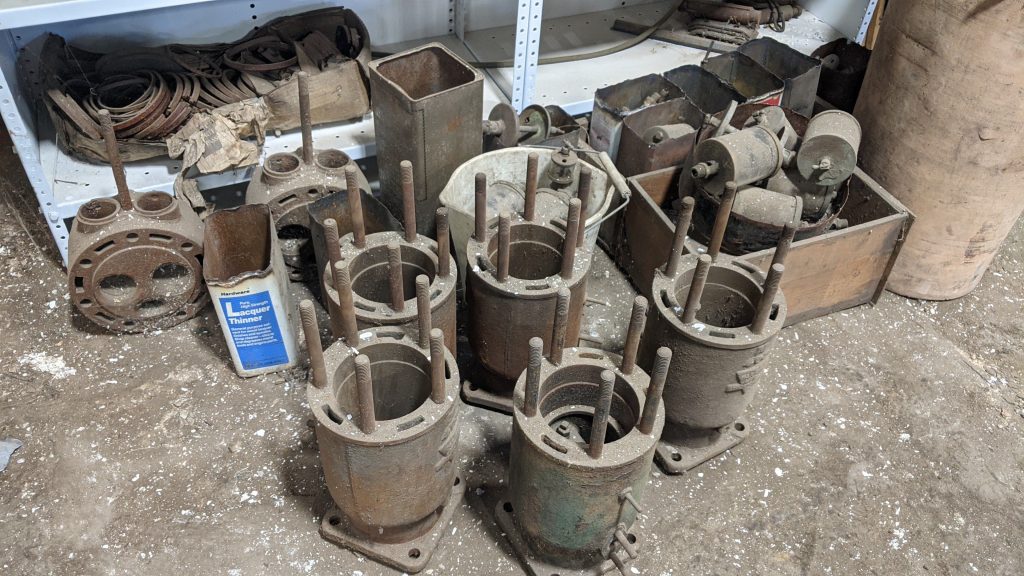 There were also a few piles of Holt 75 engine parts from cylinder heads to gearing. Hidden in the back corner was a 10-20 Titan tractor also blocked in by an assortment of Holt parts.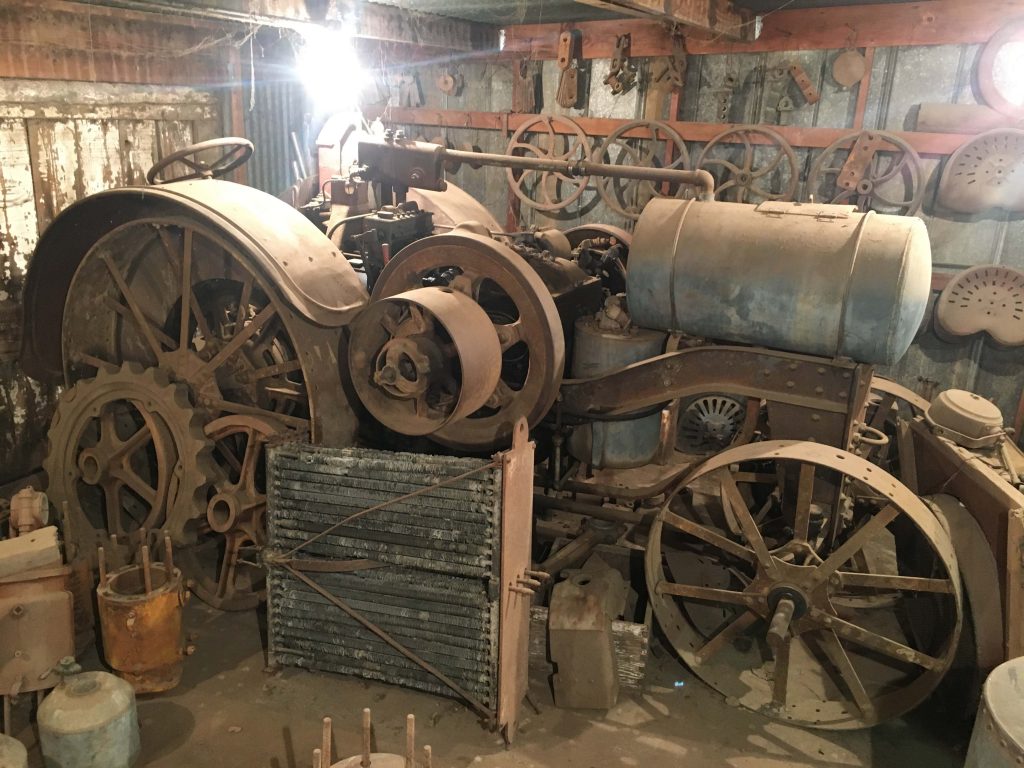 Scott took us back outside and we toured the property. We started by the front in "holt row" where there was a row of 7 four-cylinder holt engines. Next to them was an 8-16 International, smaller Holt crawlers, a rare Yuma tractor and a Stockton built Holt 75. Next to it were 3 Holt 75 project tractors, mainly the frames and under carriages, but most of the remaining parts were on the property. There was Holt engines everywhere! Down the line was a Holt 45 project, a 8-16 Mogul and a running Holt 45.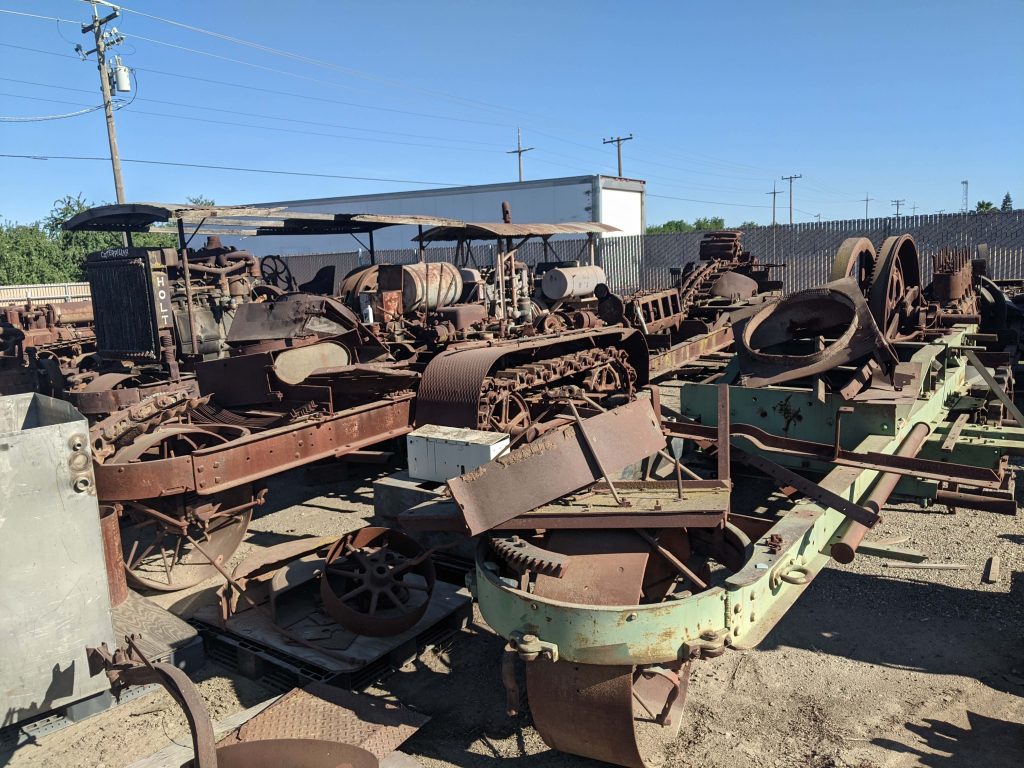 Scott and Brian had already moved a large amount of the collection over to Scott's farm where it could be spread out for the auction.
The next few days were spent digging through parts, sorting them out, moving them onto pallets and then start putting them into auction lots. Most things were moved with a forklift, but a few items needed more lift. A 110-ton crane was called in one day to move the Holt 75 projects in line, plus remove some plows and lift a crawler tractor over the fence.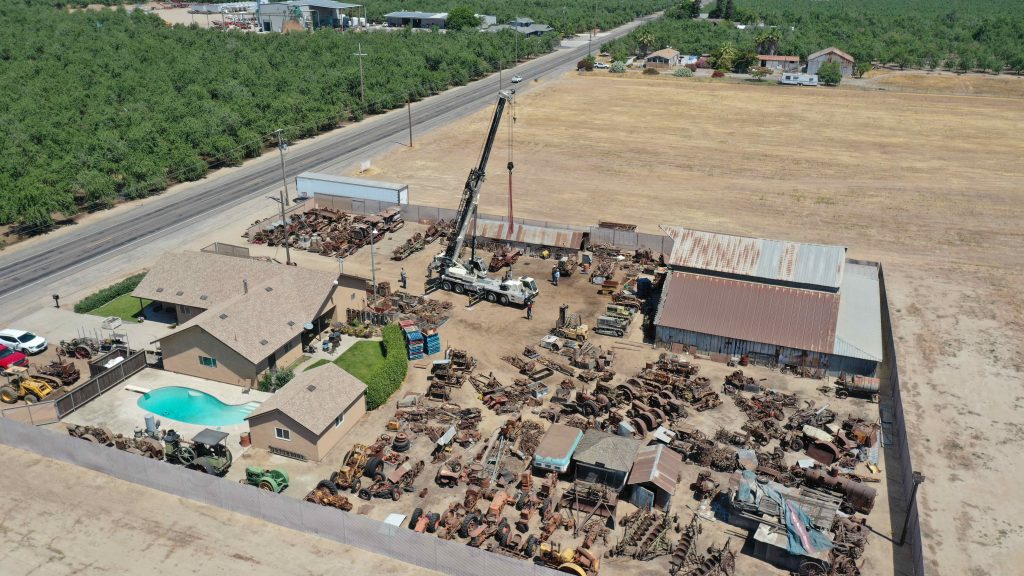 Another challenge was that the 10-20 Titan was boxed in. The door to get it out was blocked by the fence which was just a few feet in front of the door. They had to cut the fence down and remove a post just to get it out. Once the fence was out, they were also able to move tons of Holt engines parts.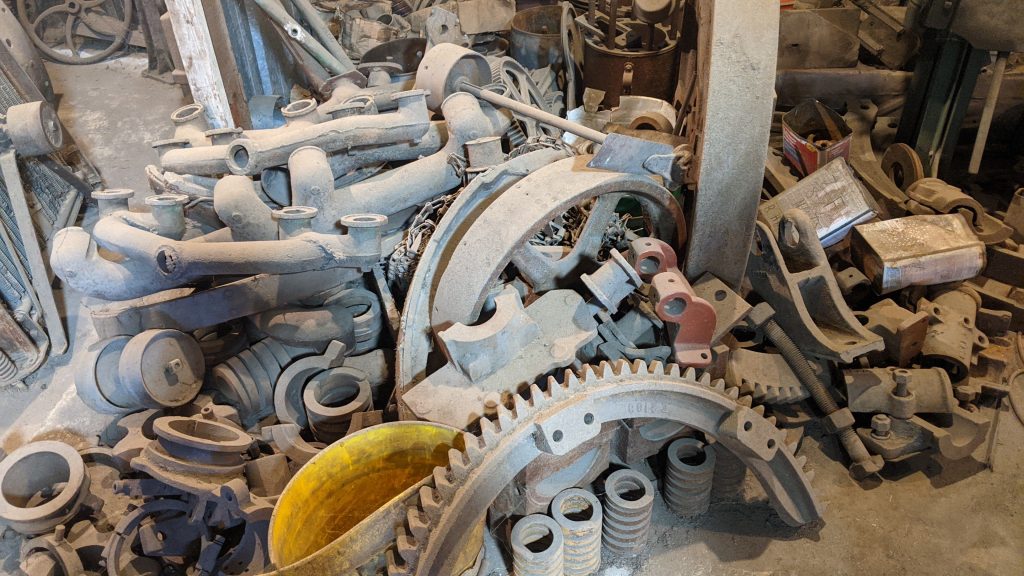 There is a lot to get excited about if you're a Holt collector. This will probably be the largest offering of holt engines, parts and projects ever offered at auction. There's a Holt 75 tractor, holt 75 projects, Holt 60 engines, and plenty of Holt parts.
There are a couple items that might be the "holy grail" for Holt collectors. The first is an early Holt engine built by the Aurora Engine Company. It is essentially half of a 60 Holt engine with two-cylinders rated at 22 horsepower.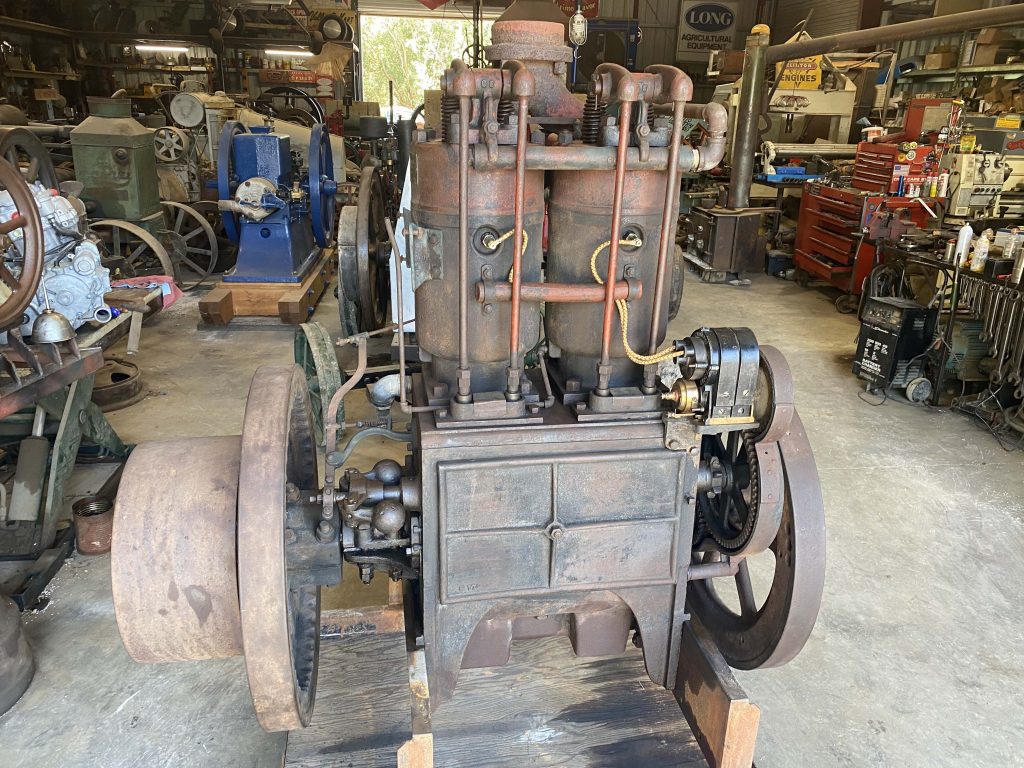 The story goes this engine was built before the four-cylinder engines and was used in a ground driven harvester. Holt found the engine didn't have enough power, so they switched to the four cylinders. It's unknown exactly how many of these two-cylinder Aurora Holts still exist, but it's believed this is the only one.
The second item is a Holt 120 parts tractor. There are only two running examples of Holt 120 crawlers still known to exist. Irvin had gathered up a chassis and parts which includes the original serial number tag. These 120s have a 6-cylinder engine instead of the 4-cylinder engines of the Holt 75s. Despite missing parts this 120 will make a great project for a new collector.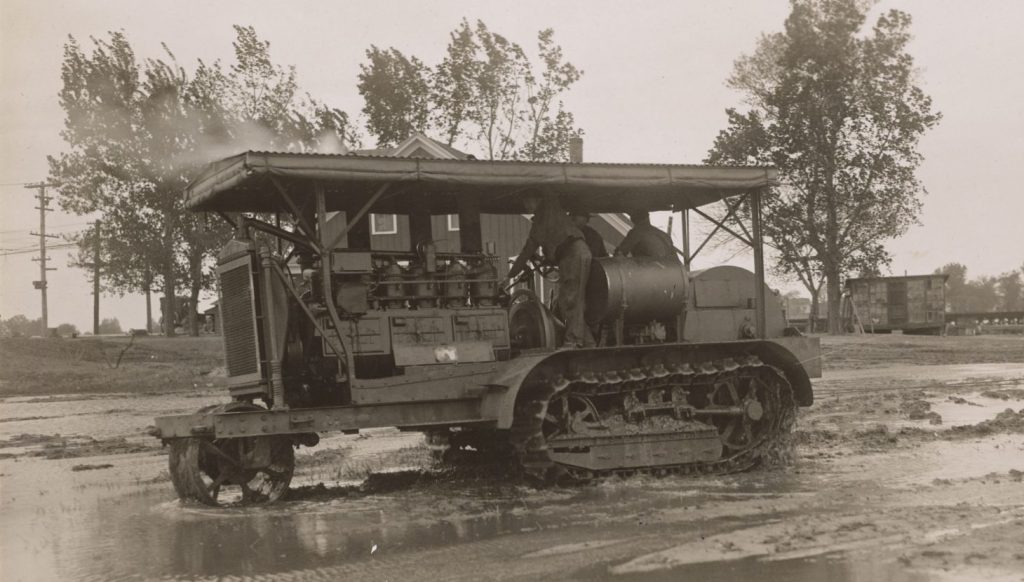 Every auction presents its own challenges and a different degree of work. Few people understand the massive amount of work and time that goes into having a successful auction.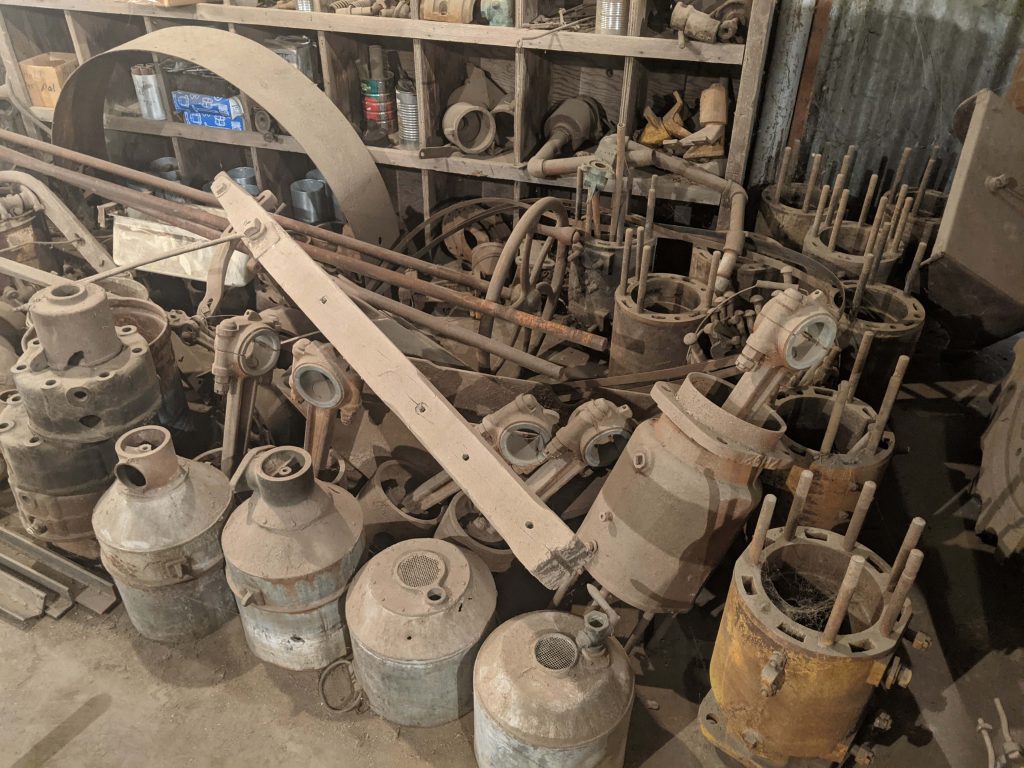 Tons of iron was moved on this trip and by the end of the week the team had finished what they had set out to do. Scott and Brian would continue to organize the remaining pieces and the Aumann team would return to finishing lotting the items, writing the descriptions, and taking the photographs.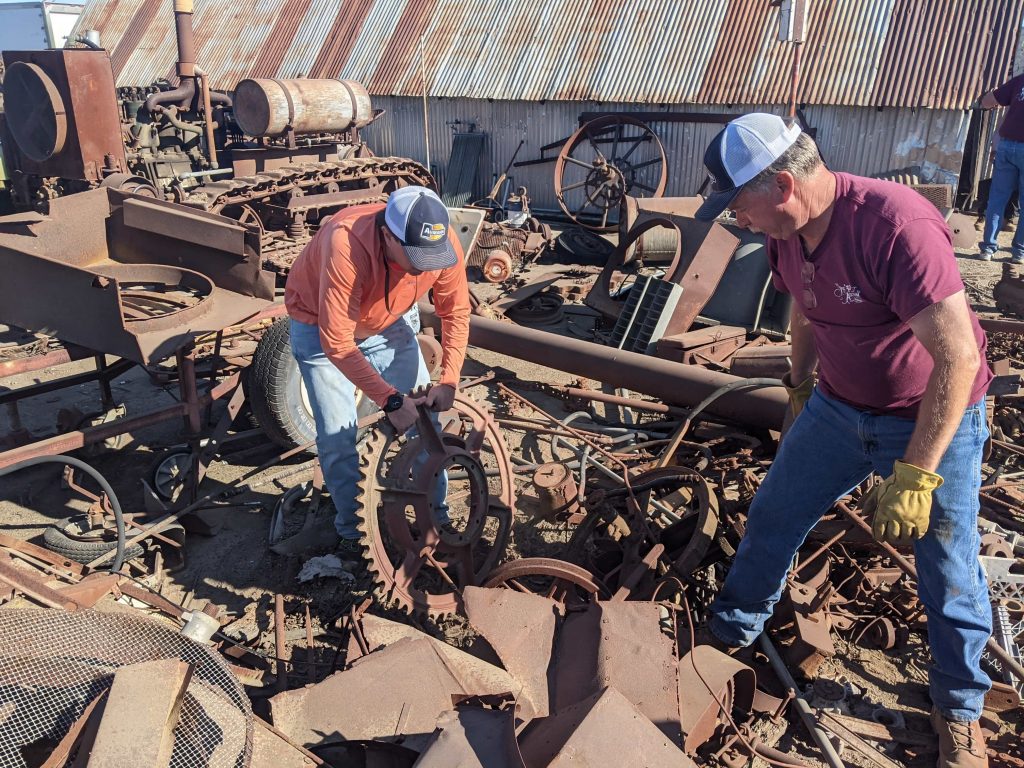 There are so many desirable pieces selling on this auction and probably something for about any pre-1930 collector. This auction will be one you won't want to miss. It's a great collection of items offered on an online only auction which will hopefully keep you out of the blistering California sun. For more about the Irvin Baker Tractor Collection visit AumannVintagePower.com
Story by Dan Boomgarden