December 21, 2020
Top Ten Front Wheel Assist Classic Tractors

Before the "modern" four wheel drive tractor, there were two wheel drive tractors with front wheel assist (FWA). The front wheel assist was a conversion turning the wide front axle into another set of drive wheels. Most of these conversions were built by third party manufactures and some were put on at the factory.
The earliest known example of a front wheel assist dates back to the mid 1950s. It was a case of something that was way before its time. Farmers at the time didn't see the need for these four wheel drive tractors and because of this production numbers are low.
A combination of factors including low production, high horsepower and unique design keep these tractors in high demand with collectors. Read Classic Tractor Fever's list of our ten favorite Classic Tractors with front wheel assist.
1 – Minneapolis-Moline G1000 Front Wheel Assist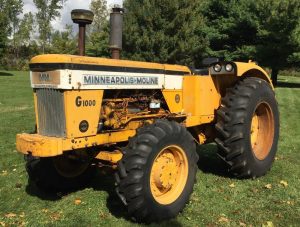 Probably the most popular Minneapolis-Moline of the 1960s is the G1000, built from 1965 to 1969. It sold in a variety of configurations including, row-crop (with adjustable wide front end), wheatland (with solid wide front end and rounded fenders) and Vista which had a high operator's platform to give the farmer a better view. Over 7,300 G1000s were built during its production run.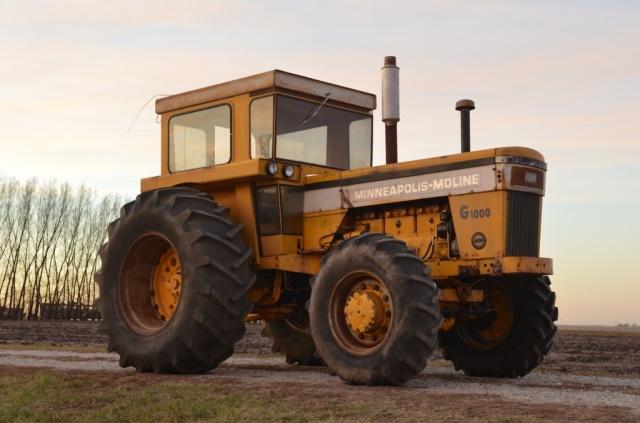 The G1000s had three different engines; a Minneapolis-Moline, 504 cubic-inch, 6-cylinder diesel engine; a Minneapolis-Moline, 504 cubic-inch, 6-cylinder LP gas engine; and a Minneapolis-Moline, 504 cubic-inch 6-cylinder gasoline engine. The engines can do 111 horsepower on the PTO and 100 horsepower on the drawbar.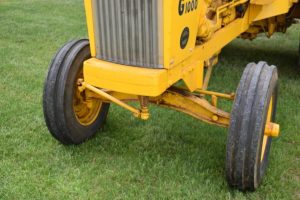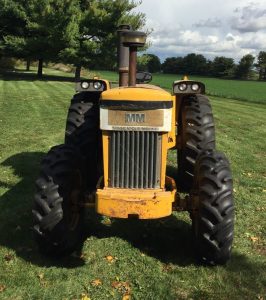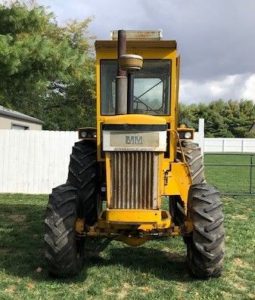 Front wheel assist was an available option for the G1000s. The production numbers on these G1000s with this four wheel drive option were low. This with its added popularity continues to make these tractors desirable to Moline and muscle tractor collectors.
2 – Oliver 2255 Front Wheel Assist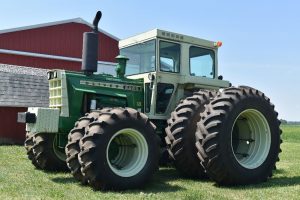 The Oliver 2255 was built from 1972 to 1976 and was part of the company's 55 series tractors. A total of 2,160 were produced in the factory at Charles City, Iowa.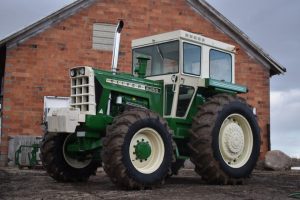 They are powered by not an Oliver engine, but a Caterpillar 8-cylinder diesel engine. They started out with a Caterpillar 3150, 573 cubic-inch V-8 engine and which was replaced in 1974 with a Caterpillar 3208, 636 cubic, 8-cylinder diesel engine rated at 147 horsepower.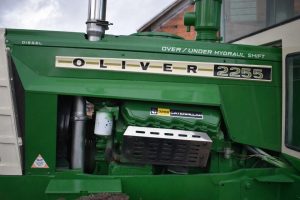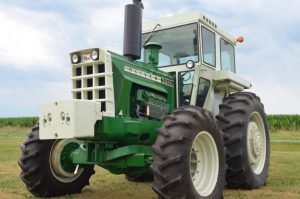 The Oliver tractors were fitted with mechanical front axles built by Clark. Clark supplied the axles to the Oliver factory where they were installed.
The Oliver 2255 in an impressive looking tractor with the front wheel assist. These tractors continue to be popular with collectors and show in the selling prices.  Below are a list of sold prices for Oliver 2255 tractors.
1974 Oliver 2255 standard  – $36,750 (2020)
1974 Oliver 2255 MFWA – $56,700 (2020)
1973 Oliver 2255 MFWA – $40,950 (2017)
3 – Allis-Chalmers 220 Front Wheel Assist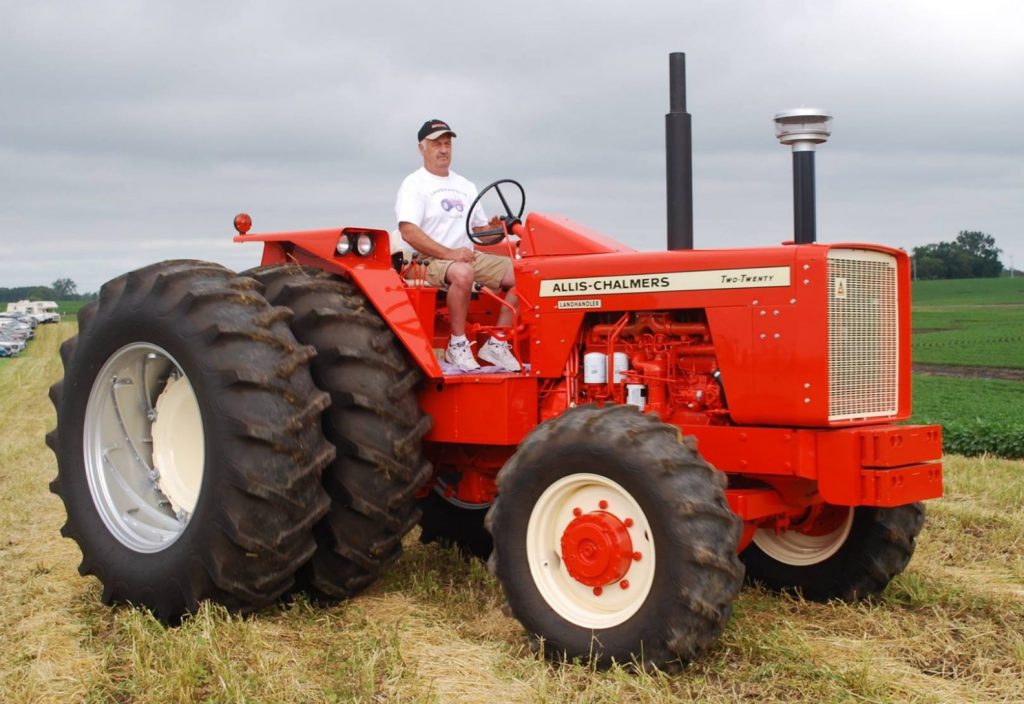 The Allis Chalmers 220 was built from 1970 to 1973 with a total production of 1, 865. They are powered by an Allis-Chalmers AC 3500, a 6-cylinder, 426 cubic-inch turbocharged diesel engine that was able to do 117 horsepower on the drawbar and 136 horsepower on the PTO.
Only 100 Allis-Chalmers with these factory front wheel assists were built. They were not popular at the time and Allis had difficulty selling them. Its reported that 20 of the 100 were sent back to the factory and converted back to two wheel drive tractors. It's unknown exactly how many still exist, but many collectors believe its around 30.
4 – The Oliver "El Toro" Front Wheel Assist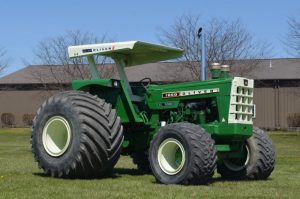 In 1964 the Oliver Company branded their four wheel drive tractors they exported to Latin America "El Toro". The only difference to the same model (with front wheel assist) sold in the United States was an El Toro decal on the side panels.
The EL Toro was available in three sizes, the 1900, 1800 and 1600. The 1950 was added to the line up once the 50 series line launched.  The El Toro stopped with the end of the 1950 series line in 1967.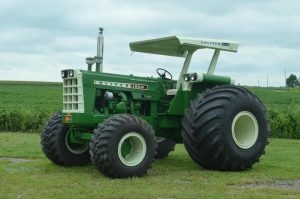 5 – John Deere 4020/4320 Front Wheel Assist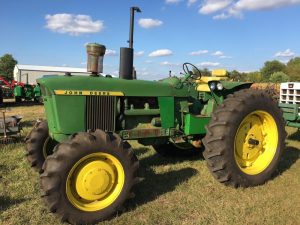 One of the most iconic classic John Deere tractors of the new generations series has to be the 4020. The 4020 was introduced with the second generation of the new generation series, which took a drastic change in design from the 2-cylinder models the company became famous for.
But what about a John Deere 4020 with front wheel assist? They are hard to find, but are out there. John Deere, unlike Oliver or Minneapolis-Moline was "late" to the front wheel assist market. They tried their hand at a full four wheel drive tractor in 1960 with the failed 5010s. The tractor was so problematic they recalled all the 5010s, overhauled them and rebranded them as the improved 5020.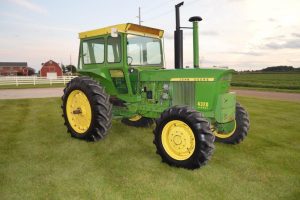 Along with the 4020, the 4320 has become an iconic tractor in the new generation line. The 4320 was released in 1971 with 21,485 built during its production run. John Deere also fitted the 4320s with front wheel assist.
6 – Massey Ferguson 97 Diesel Front Wheel Assist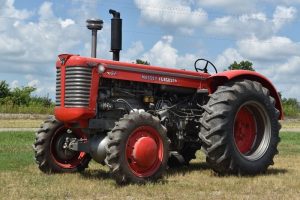 The Massey Ferguson 97 was based off the Minneapolis-Moline G705 (2WD) and G706 (4WD). These tractors were built by Minneapolis-Moline from 1962 to 1965. They are powered by a Minneapolis-Moline, 504 cubic-inch, 6-cylinder Diesel or LP Gas Engine that's rated at 108HP.
The Massey Ferguson 97 is a popular tractor with collectors, but the added low production front wheel assist only adds to its value. The Massey 97 pictured above sold on the 2020 Aumann Vintage Power Fall Harvest Auction for $12,075 US dollars.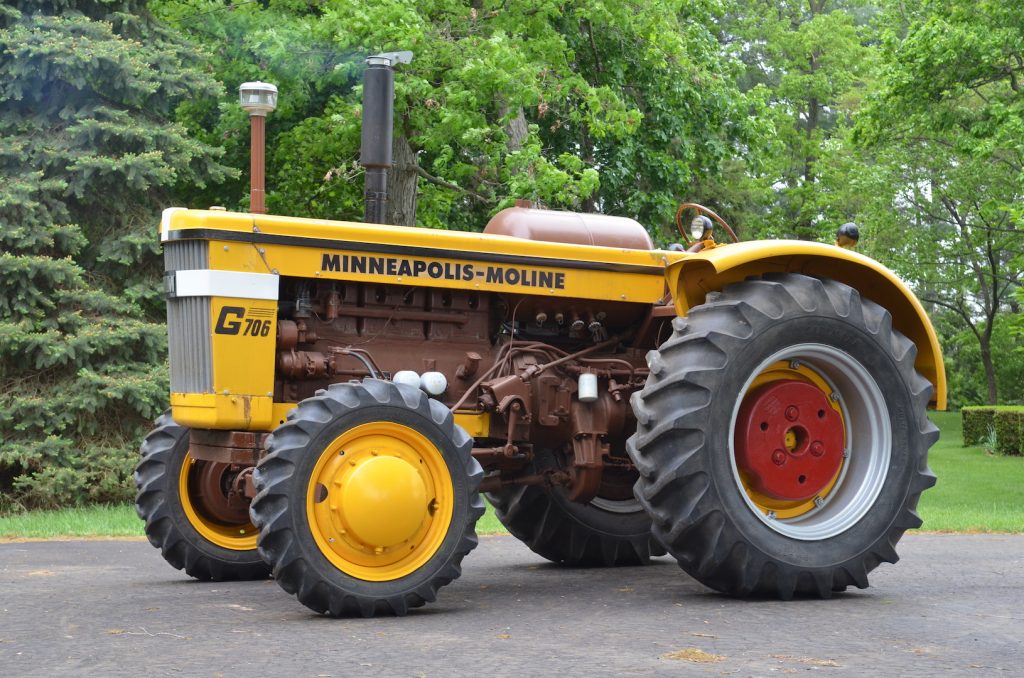 7 – Promotional Minneapolis-Moline G706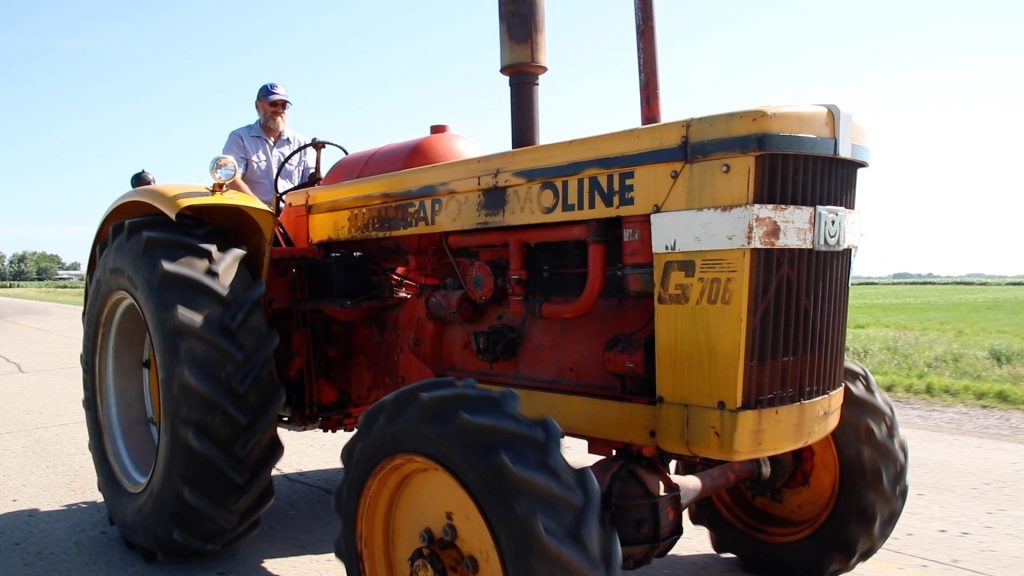 Minneapolis-Moline only made one of these G706s with LP Gas engine in this paint scheme. The G706 in the photo above was a promotional tractor painted orange instead of brown from the factory.
In 1962 Moline launched a promotional campaign to let the farmers decide what the new color scheme would be for the company's new line of tractors. Moline took this promotion on the road to different farm shows and state fairs across the United States. The farmers voted between this orange color scheme and a brown color scheme. The orange lost out. This orange G706 tractor is the only one known to still be in original condition. The other tractors which were part of the promotion have since been painted brown.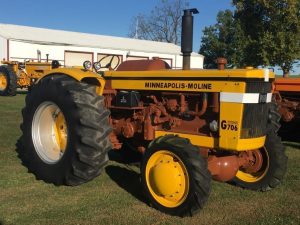 Classic Tractor Fever did a story on this unique Minneapolis-Moline G706 still in remarkably original condition. Eric Ziel, a classic tractor collector and historian shares the history on this piece from our agricultural past. (Watch the video below.)
8 – Oliver & Cockshutt 50 Series Hydraulic Front Wheel Drive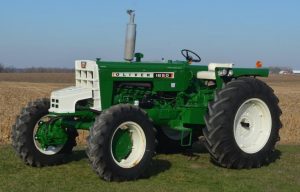 There are two main types of front wheel assists, those that are mechanical or direct drive and those that are hydraulic drive. Oliver and Cockshutt used mechanical drive for the bulk of their front wheel assist tractors. Only a handful of these hydraulic front wheel assist tractors are known to exist and are highly desirable to collectors.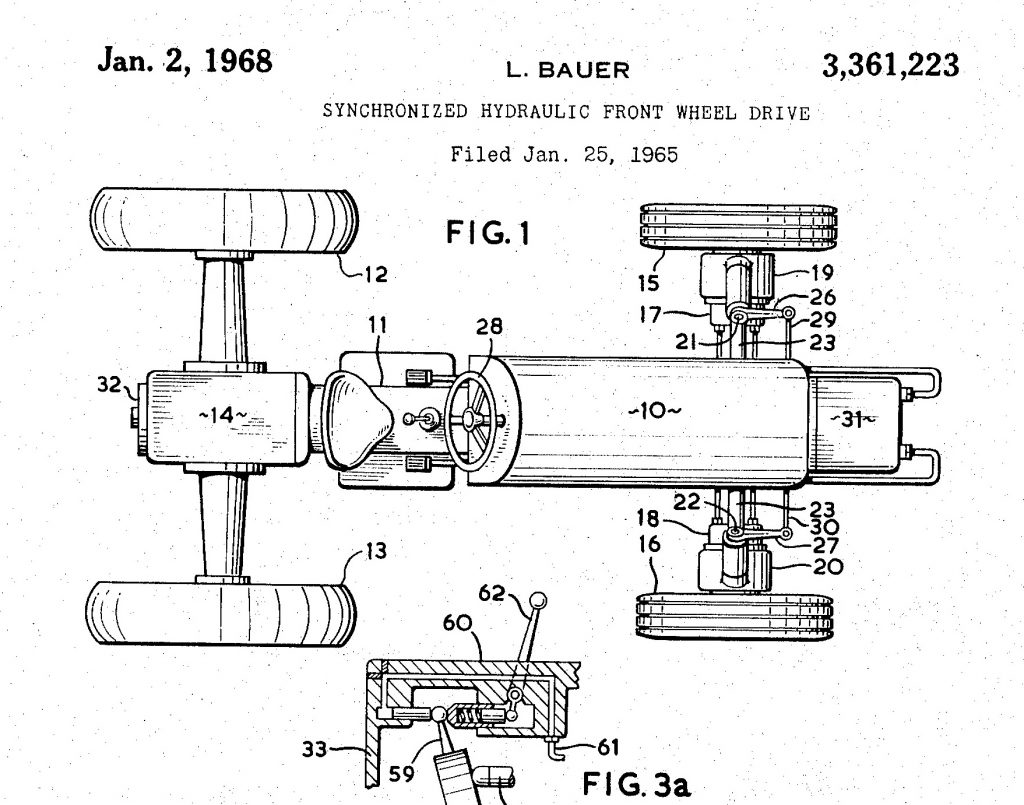 These hydraulic systems were built by Levy of Canada and called the Levy Live Power Wheel. The hydraulic system sets out in front of the tractor over the front axle. Its likely these hydraulic axles were not as reliable as the mechanical drive version. Whatever the case, the low production numbers make these tractors a hot commodity which shows in their selling prices.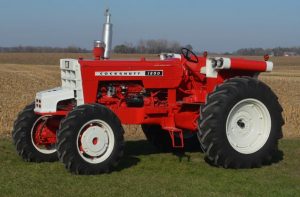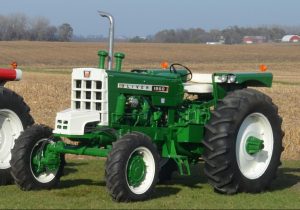 9 – International 1066 Front Wheel Assist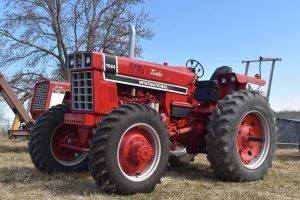 In the late 1950's it was the Elwood Equipment Company of Elwood, IL that became an IH-approved aftermarket accessory for International tractors. These Elwood front end were installed at the dealership and converted the two wheel drive tractor into full four wheel drive.
By the time the 1066 rolled off the line International Harvester switched to Coleman of Littleton, Colorado to supply their mechanical drive front ends. Coleman was already selling the company conversion kits for heavy and medium duty trucks. This relationship might be the reason IH switched from Elwood to Coleman.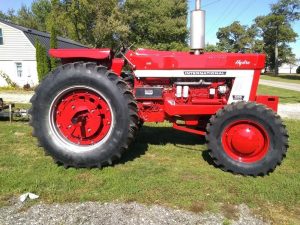 In 1971 International introduced its 66 series line which included the 766, 966, 1066, 1466 and 1469 plus the four wheel drive 4166. Only the 966 and the 1066 were available with either an 8-speed gear shift or 16-speed partial power shit hydrostatic transmission.  The tractor is powered by an International Harvester turbocharged, 6-cylinder, 414 cubic-inch diesel engine that can do 105 horsepower on the drawbar and 125 horsepower on the PTO.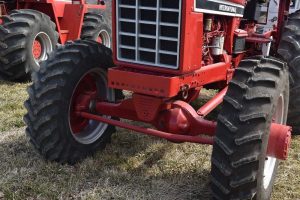 A total of 54,947 IH 1066s were built in the factory in Rock Island, Illinois from 1971 to 1976.  Numbers for 1066s built with front wheel assist are significantly lower, but its hard to figure out just how many. International Harvester did not mark the serial number tags or keep any records for their two wheel tractors they converted to four wheel drive. Its safe to assume that the production was in the hundreds.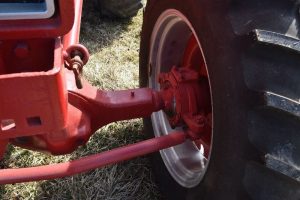 We've shown two different paint schemes in this post for the 1066 tractor. Starting in 1975 International decided they needed a new look for the 66 series tractors as the line was coming to an end. The company came up with the black stripe design. Over the years the black stripe became an iconic look for International Harvester and something collectors seek out.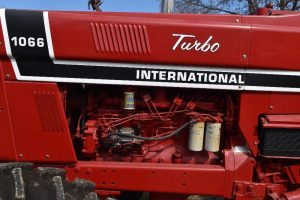 There is really nothing mechanically different between the tractor released after 1975 just a different coat of paint. International Harvester repainted these tractors in an attempt to clear inventory before the launch of their new 86 series Pro Ag Line.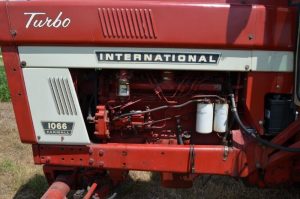 10 – Minneapolis-Moline  GTB FWA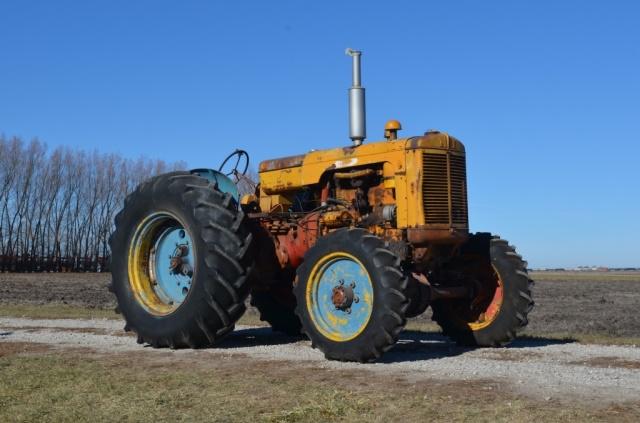 The Minneapolis Moline GTB was built from 1947 to 1954. It was available in either a Minneapolis-Moline, 403.2 cubic-inch, 4-cylinder gas engine or a Minneapolis-Moline, 425.5 cubic-inch, 6-cylinder diesel engine. It's rated to do 58 horsepower on the belt and 49 horsepower on the drawbar. Back in 1954 this tractor would have cost your $2,400 US dollars or about $23,00 in 2020 US dollars.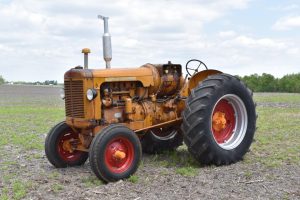 Minneapolis Moline was one of the first agricultural manufacturers to add front wheel assist options to their two wheel drive tractors. These conversations started sometime in the late 1940s and early 1950s. One of the earliest conversions sold on The Eric Ziel Rare Tractor Collection Auction conducted by Aumann Auctions. 
This GTB was a gasoline model in original condition. It has serial number 0164800347 making it a 1948 model. This tractor sold for $5,775 US dollars on the auction. It's unclear how many of these early Moline's with front wheel assist still exist, but this 1948 GTB is a great piece of agricultural history.
So tell us what you think! Are these the top 10 Classic Tractors with front wheel assist? Tell us about it in the comments below!
Story by Dan Boomgarden