January 7, 2020
The Kenny and Wendy Wolf Engine Collection
Nov. 6, 2019, kicked off the first of two auctions of the Kenny and Wendy Wolf engine collection. Kenny and Wendy, as many readers know, have been buying, selling and collecting engines for some 50 years, with some of the rarest and most interesting engines ever made passing through their hands at one time or another. Aumann Auctions has scheduled the second auction for August 11, 2020, and with that in mind we thought readers might enjoy the following article written and photographed by Don Voelker and published in the June 2009 issue of sister magazine Farm Collector. – Editor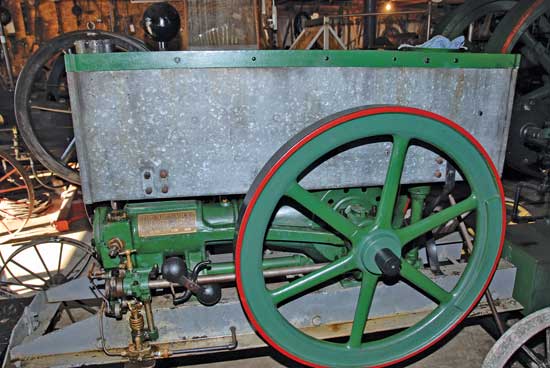 It's a quandary faced by every collector: What to keep, and what to sell?
Career antique gas engine collectors Kenny and Wendy Wolf have adopted a practical approach that helps them build their collection. "If we had six engines in the garage and found one we liked better than one of those," Wendy muses, "we might sell or trade one to make room for something new. I think that's a good way to do things. That way, we get to own an engine, but if we get tired of it, then it goes to another collector who'll appreciate it and enjoy it."
The sheer tonnage of old iron that's passed through their hands over the years could break a back several times over. "I've had some of these engines for 35 to 40 years," Kenny says. "The old story that 'Wolf will sell anything' isn't always true. This is an odd thing to say, but you never want to look back: Always look ahead. I'll be honest with you. If I still had every engine that I ever sold, it would cover 50 acres."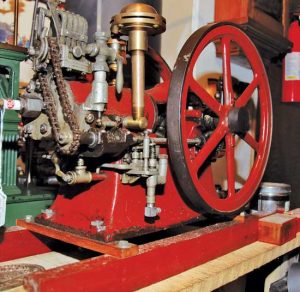 Kenny says he's always had an interest in mechanical things, but it began to ramp up about 40 years ago when he and Wendy and their children became regulars at the Tri-State Gas Engine & Tractor Assn. show in Portland, Indiana. "We'd use our mad money to buy an engine," Wendy recalls. "A couple of our daughters just grew up knowing about engines. We would buy almost anything; pretty soon we had a barn full of common engines."
As time passed, the couple's preference shifted to better engines. They'd trade several common pieces to get one special engine. As word got around that he was an active buyer, Kenny began to get calls from people looking to sell entire collections. He'd keep the one engine he was interested in and spin off the rest.
Focus on Engines
Today, the couple's collection has spread to other categories. "Our interests are so varied," Kenny explains. "We like steam engines, gas engines and hot air engines, and we have things in all of those categories." Tractors too. "There really isn't anything in agricultural-type things that we don't like," Wendy says. "Anything mechanical, railroad lights and lanterns and everything in between. Myself, I collect toy sewing machines and children's treadle machines."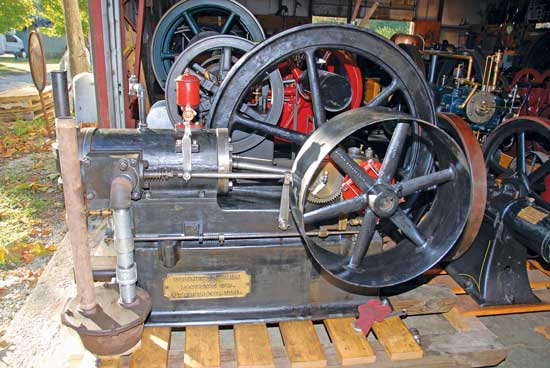 Kenny's gas engine collection showcases rare, historic pieces. Perhaps his most unusual engine is an operational 3/4-scale model of the 1867 Otto-Langen hydrogen engine. Built by Wayne Grenning, the model is a copy of an engine originally used to power a jeweler's lathe or similar small device. "I buy tanks of hydrogen at a welding supply shop to use as fuel," Kenny says. "Usually we run the engine every year at our show."
Another special piece in the Wolf collection is a 6hp Charter made before 1900. They happened on to that engine through pure luck. Kenny and Wendy were at a show more than 20 years ago when they heard the "thump, thump" of a flat tire approaching. They turned to see a pickup pulling a trailer with a flat. And on the trailer was the Charter.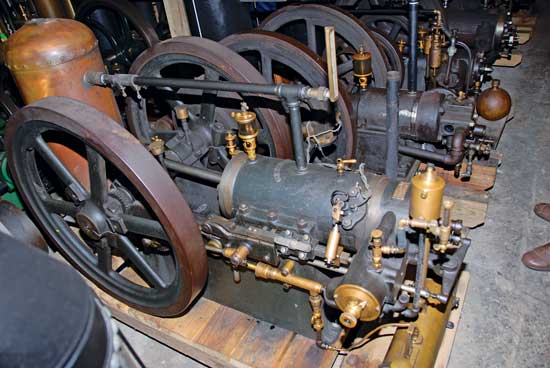 Kenny offered to help change the tire, but the driver had a different idea. "I'm here and I have the rest of the week to change the tire. Forget about that tire," he said. "I want to sell you my engine." Presented with what seemed a steep price, Kenny hesitated – until he looked up and saw other collectors approaching. "I'll take it," he said.
A rare piece in the Wolf collection is an 1894 Lennox 4hp engine made in Marshalltown, Iowa, by the Lennox Machine Co. Company founder David Lennox also built boilers and early furnaces; he later sold that line to another company, which continues in business today as Lennox Indoor Comfort Systems.
A rare vertical air-cooled Erie engine, one of just two known to exist. Every part of the engine is original, and parts were copied from this engine to rebuild the other surviving Erie engine.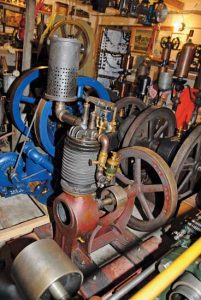 Other rare gems in their collection: a 40hp Fairbanks that came out of an Illinois grain elevator (when Wendy was a child, the engine belonged to her neighbor), a Metcalfe Miller Quincy, a 5hp Vermont-made Abenaque, a 2-1/2hp Star (serial no. 827) made by J.&E. Homan Co., New York, New York, and several inverted engines (Wendy's favorite category), including two Brunner engines made by Brunner Foundry & Machinery Co., Peru, Illinois.
With a nod to their home state, the couple collects Indiana-made engines: their display features a rare all-original 1904 3-4hp Gemmer (the only one known to exist) made in Marion, a 3hp Perkins (Mishawaka) and three Angolas with consecutive serial numbers.
Community of Collectors
The Wolfs enjoy collecting old iron, but they get equal pleasure from the people involved in the hobby. "One of the nicest things about this is that we have met the most wonderful people and made the greatest friends," Wendy says. "We even have collector friends from Australia, Ed and Reggie Mick, who come here and stay for days." Family members are also actively involved. "Our two grandsons, Sam and Jake, are our best helpers," Wendy adds.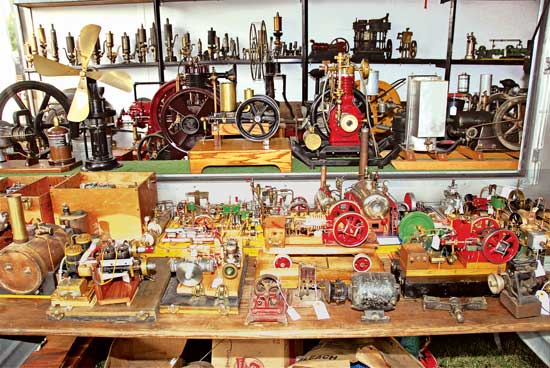 The Wolf collection includes scale engines, salesman sample engines, hot air fans, antique steam whistles, bells and more.
In 1991, the couple invited friends from the hobby to a show at their home in Peru. Held each June, the show has become a regular event, and is now paired with a swap meet in the fall. Events like those help keep the community of collectors close – and help keep old iron moving.
"People trade in their cars and it is the same way with these engines," Wendy says. "A lot of times Kenny has no interest in the one that was traded but he can sell it later and get something he wants." Deals are advanced by word of mouth and sealed with a handshake. "If you want to be treated fair, you have to treat the other guy fair too," Wendy says. "Kenny and I have always tried to be fair and I hope people feel that we are."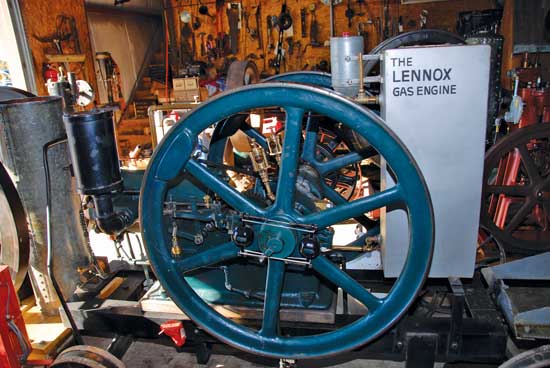 A rare 4hp Lennox tank-cooled engines.
For decades, the Wolfs have built their collection on that simple philosophy. It's a formula that works, and keeps working, as they continue to turn up choice pieces of old iron. Just don't ask them to quantify that collection. "I don't know how many engines we have," Wendy says with a smile. "If I would count them, it would not be correct by that evening!"