November 12, 2021
John Deere's Failed Attempt To Break Into The Golf Industry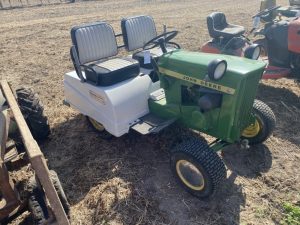 Check out the Earl Scott Antique Tractor Collection Auction that is selling an original John Deere 110 Sweepster. The auction ends on November 18, 2021. FOLLOW THIS LINK https://bid.aumannauctions.com/auctions/catalog/id/29538/ to learn more!
The John Deere 110 is a popular classic with garden tractor collectors because its Deere's first lawn and garden model. It was introduced in 1963 and continued until 1974. It's powered by a 4-stroke gasoline engine rated at 7 horsepower.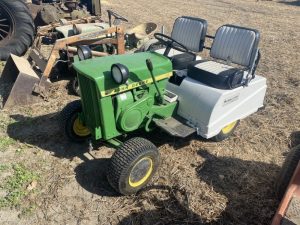 It's not really a rare model, but the earliest in the series are more sought after by collectors. And if you're going to own a John Deere 110 you need some attachments. Deere built everything from snow blowers to plows for these little tractors, but one of rarest looks like it doesn't belong on a garden tractor.
In the mid-1960's the higher ups at the John Deere company had the idea of turning your riding lawn mower into a golf cart. I'm assuming those executives were out hitting a round of golf, drinking some beer and thought,
"Hey, you know what would be cool? If you could convert a lawn mower into a golf cart?"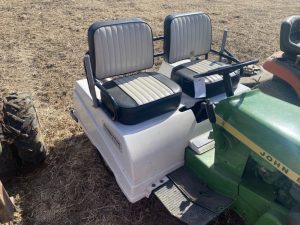 So, John Deere partnered with the Sweepster brand built by the Jenkins Equipment Co. of Dexter, Michigan. The Jenkins company is still in business today and builds machinery for the service industry.
The factory built Sweepster attachment was only available in the mid 1960s and made to fit the 110 and 112 models.
It takes two people to put the Sweepster attachment on. You remove the mower deck and existing seat and bolt it in place. You could also purchase a golf club caddy that fastened behind the seats or another set of seats, so you could haul four people around the golf course.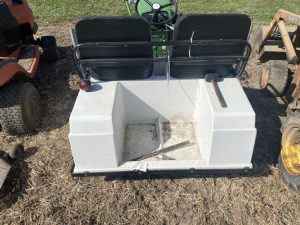 As you can imagine most owners didn't want to go through the hassle of putting this fiber glass attachment onto their tractor. And really, what percentage of people who bought their mowers, mow on a Wednesday then go hit a round of golf on a Saturday?



I'm guessing in that Venn Diagram there's few that cross over. I'm sure it was a combination of that, the hassle to add it and the fragile fiber glass frame is why so few were built. Sweepster has no records, so it's hard to say how many were actually built, but only about nine are still known to exist.
If you're wanting to own one, here is your chance. There is one selling on the Aumann Vintage Power Earl Scott Estate Antique Tractor Collection Auction ending on November 11, 2021. FOLLOW THIS LINK https://bid.aumannauctions.com/auctions/catalog/id/29538/ to learn more!
by Dan Boomgarden 2021