June 1, 2021
Nothing Like It! A Look Inside The Gray Tractor Factory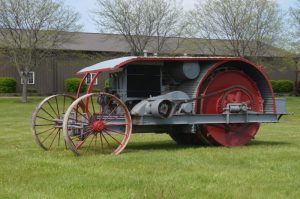 A Unique Design
The Gray was built by the Gray Tractor Company in Minneapolis, Minnesota. Development of the tractors started around 1908, but probably went on the market around 1914. Company advertising shows the tractor stayed into production till about 1933.
The Gray Tractor with its single wide rear drive "drum" is one of the most unique tractor designs of the Pre-1930 era. This tractor was designed to solve the problem of soil compaction caused by heavy tractors weighing tons. The Gray was trying to fill a need for a smaller light-weigh tractor.
The Gray Tractor had an interesting idea, instead of having two drive wheels, they made one large hollow rear wheel. The company claimed this design gave the tractor better traction and eliminated ground compaction caused by other heavy two wheeled tractors.
These tractors were first powered by a two cylinder, water-cooled, vertical engine and came in a variety of sizes over the years.
The Gray 18-36 was the most popular size built by the Gray Tractor company. Updated from the previous 2 cylinder driven model, it is powered with a four-cylinder Waukesha engine.
We searched through several online archives and found not only original photographs of Gray Tractors in action, but actual production photos inside the Gray Factory.