February 4, 2021
John Deere Lawn & Garden Tractor History – From Prototype To Production
By Brandon Pfeiffer, BrandonP@sit-co.net
Originally published in Lawn & Garden Tractor Magazine.
This article is the first in a series based on interviews and writings from the people who were a crucial part of bringing John Deere into the outdoor power equipment industry.
When the name John Deere is spoken, the first thing that comes to mind for most people is a company that is a market leader in agriculture, construction, and outdoor power equipment. What would surprise many, however, is that John Deere entered the outdoor power arena late in the game.
International Harvester introduced the Cub Cadet in 1961; Wheel Horse, Bolens, and Simplicity, to mention a few, were also dominate players before John Deere came onto the scene. Because of this, many John Deere dealers were selling some of these lines or other brands of lawn and garden tractors because Deere didn't offer any.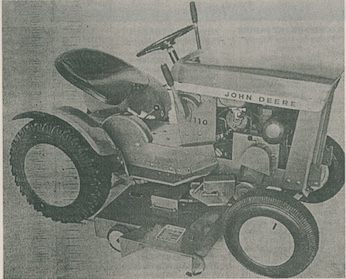 In 1962, Deere began to show interest in building their own line of lawn and garden tractors. An interesting side note is that in 1959, according to Lee Wannie, who was an engineering department draftsman at John Deere's Horicon plant, a prototype lawn and garden tractor had been built at their factory.
He recalls that it was a crude design with a transmission and a Lauson engine. The frame was made of angle iron, and it had steerable wheels on the front. He remembers the engineers being excited about designing something other than grain drills. "Working on a lawn and garden tractor seemed kind of cool to them," said Lee. In short order, however, the project was dropped, and nothing was ever spoken about it again.
The remainder of this article will be told by the late Martin Berk, who was part of the core group of engineers who helped to make Deere & Company's vision of entering the outdoor power equipment industry a reality.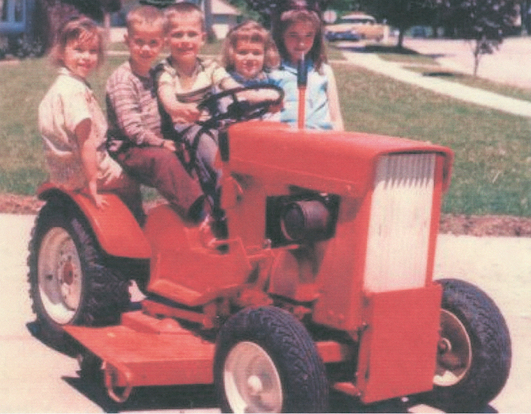 Martin recalls, "In May 1962, I was visiting with my friend and neighbor Wayne Kellums, who was a division engineer at the John Deere Industrial Equipment Works in Moline, Illinois. Wayne told me that the Industrial Equipment Works was working on a feasibility study for an 'estate tractor.' They had a young engineer named John Clingerman working with Henry Dreyfus Associates, Deere's industrial design consultant, on the overall exterior design of the product. 
Deere hired another young engineer named Gerry Buelow, who had recently been discharged from the armed services to work on this project. He had previously been employed with JI Case in Burlington, Iowa. Wayne Kellums asked me if I would be interested in joining the team. I said yes.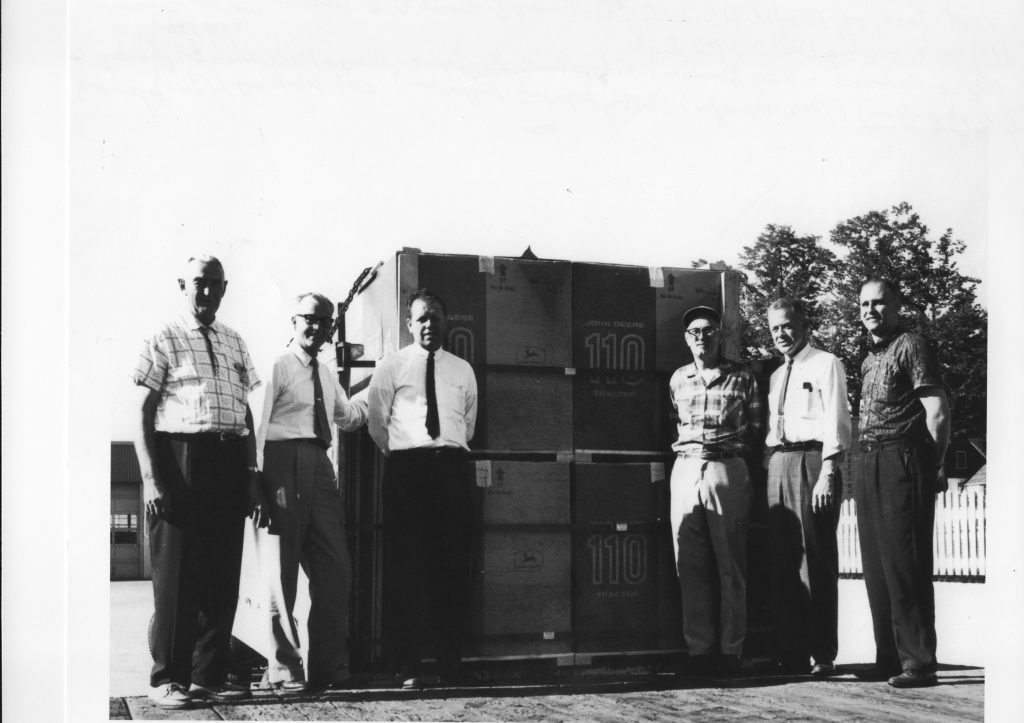 Permission had to be granted, so Jack French, Manager of Engineering at Industrial Equipment Works, called Arnold Skromme, Manager of Engineering at the John Deere Spreader Works (Martin's boss) and made a request for them to interview me for this new position. After the interview, I was offered the new position and I accepted the invitation. My new job at Industrial Equipment Works started on July 16, 1962.
Deere had purchased several competitive lawn and garden tractors to make evaluations on pros and cons of each brand. The competitive machines were Simplicity, Wheel Horse, Bolens, and International Harvester Cub Cadet. We modified a Cub Cadet by replacing the transmission with a variable displacement hydraulic pump from Deere's 'New Generation' farm tractors and a hydraulic gear motor to drive the rear axle. This allowed us to evaluate the merits of a hydrostatic transmission as well as observe the Cub Cadet timed blades.
We concluded that the following features were desirable:
A variable ground speed that could be changed on the go without shifting the transmission. A feature of this drive was to select the transmission speed for the job and then adjust the variator to the best ground speed.
A steering system without kickback when the front wheel hit a bump or curb such as an automotive design
A safe comfortable operator environment
Adjustable rear axle tread to widen for increased stability on slopes and hillsides
Maximize ease of changing attachments
Self-energizing braking system that works in both directions
In-line two spindle mower with timed blades to reduce the length of the deck (This idea was dropped after damage was done to the test unit deck when a blade struck an object during early testing.)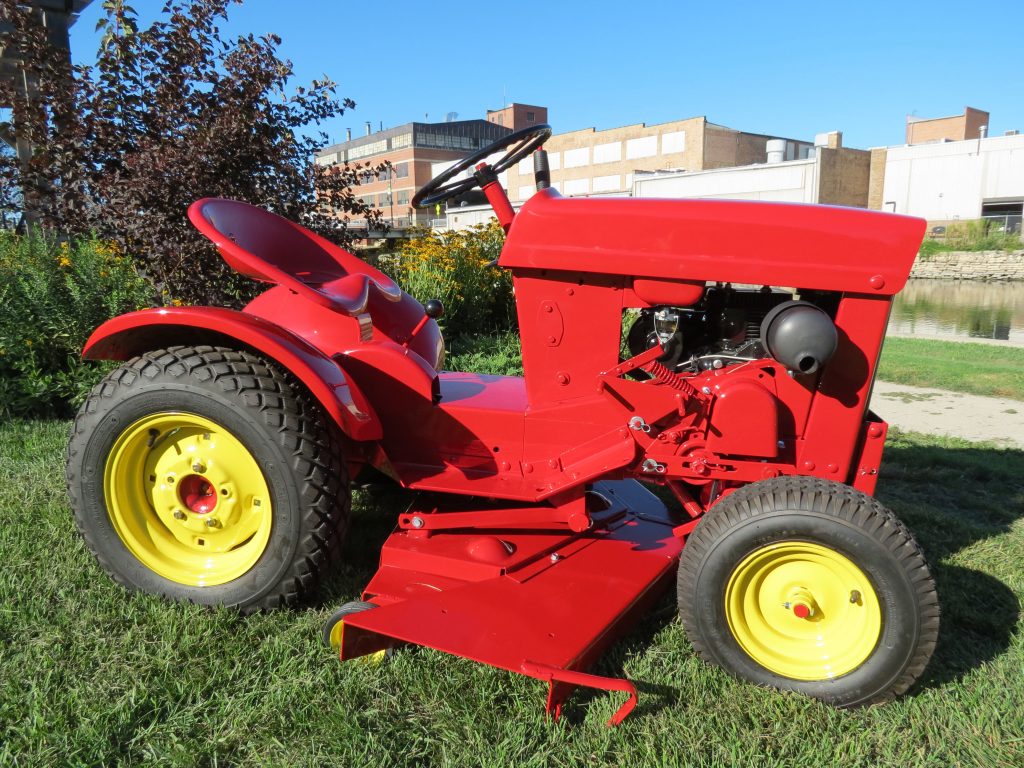 Using a hydrostatic drive for the variable ground speed had advantages but was cost prohibitive to be competitive in the marketplace. We talked with potential transmission vendors and selected Peerless Gear of Dunkirk, Ohio, as our supplier. They built a three-speed transaxle that they were selling to the lawn and garden equipment industry.
The owner of the company was George Lewis. He sold the company to Tecumseh before we started production. We tested this transmission extensively. Revisions were made to correct durability problems.
We selected a 7hp Kohler engine. For the feasibility study, we made two prototypes designated 9AXE1 and 9AXM1. Prototype 9AXE1 had electric start with a variable speed drive. Prototype 9AXM1 used a manual start engine with fixed speed drive.
In late August 1962, I started working on the tractor's drivetrain and braking system. On October 22 and 23, 1962, we evaluated the completed prototypes at Deere's Coal Valley Experimental Farm. We were satisfied that the project was ready for the manufacturing group to determine the manufacturing cost in order to complete the feasibility study.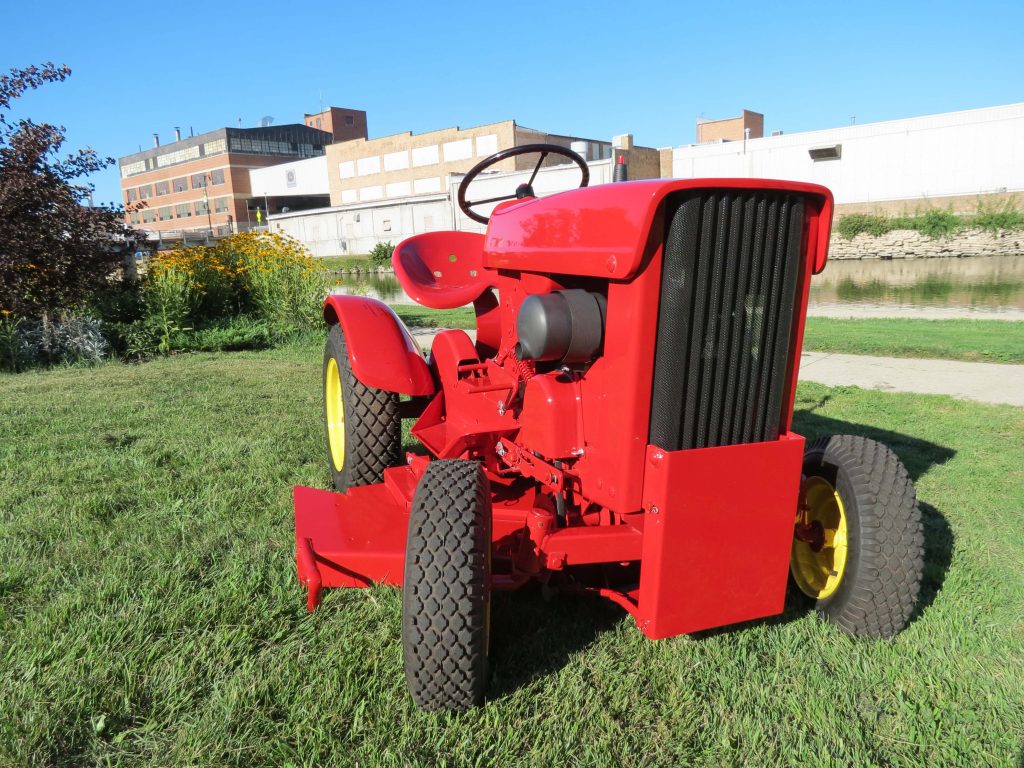 The results of the feasibility study were reviewed by Deere & Company management. The meeting was held on November 21, 1962 (the day before Thanksgiving) at the Industrial Equipment Works with Deere's company directors and officers. Also in attendance were Bob Hendrix, General Manager, and Al Hyland, Manager of Product Engineering of the Horicon Works, along with Phil Mumford, General Manager of Industrial Equipment Works, Jack French, Manager of Product Engineering at the Industrial Equipment Works, and my boss, Wayne Kellums, Division Engineer for the Industrial Equipment Works.
After the meeting, I was informed of the decisions and introduced to Bob Hendrix and Al Hyland. They invited me, along with my wife, to come to Horicon on Friday, November 23 to see the Horicon Works. That evening I asked my wife Penny how she would like to move to Horicon, Wisconsin. She said, 'Where is Horicon, Wisconsin?'
I answered, 'I don't know. I haven't looked at a map.' We decided to move to Horicon, Wisconsin, and I started there on Monday, December 3, 1962. My family didn't move until the third week in March because of difficulty in finding suitable living quarters in Horicon, Wisconsin.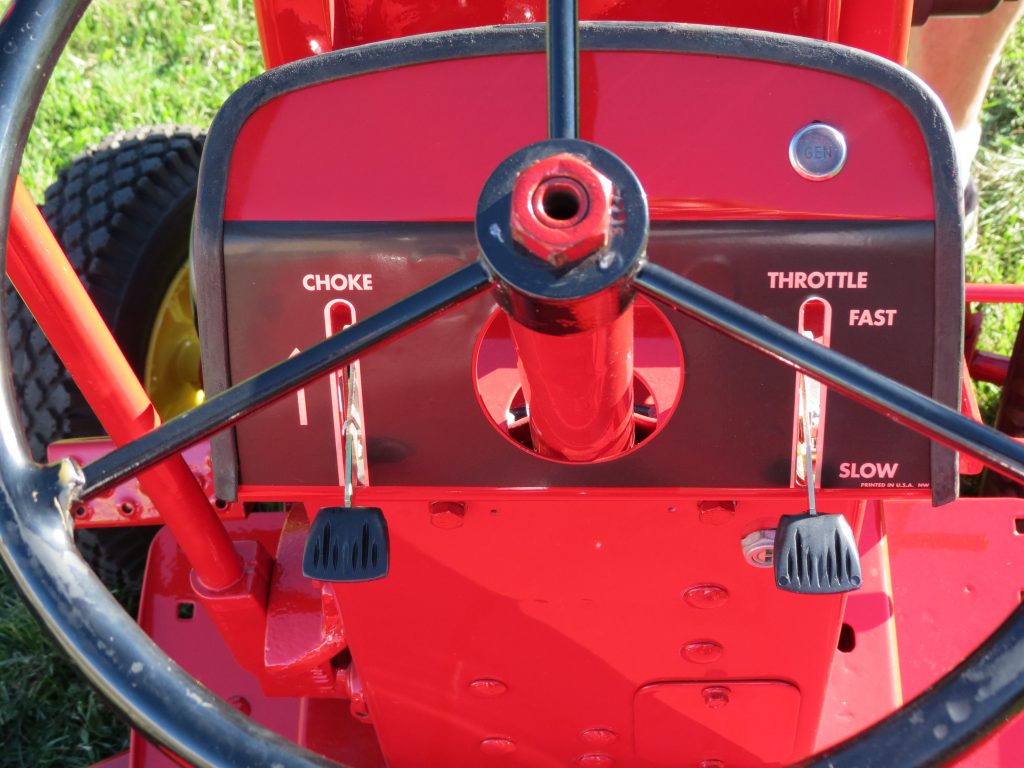 The prototypes and competitive lawn and garden equipment were transferred to Horicon Works. I also brought the layouts and drawings with me. After being introduced to the employees, I was back to the drawing board, checking the design in detail and making sure that it was accurate, and that all parts fit together as intended.
Bernie Joslin from manufacturing engineering, Bob Lewis from tooling, and John Carrin from the methods department were regular visitors, checking on the progress of the designs and advising us on prioritizing the drawings and answering questions we had.
Wayne McClellan, the Horicon Works Service Manager, visited me almost daily after normal working hours, discussing the design details and reviewing the prototype. His objective was to make sure that this tractor could be serviced easily. Some changes were made. Wayne played a very important role in making the introduction of the John Deere lawn and garden tractor a success.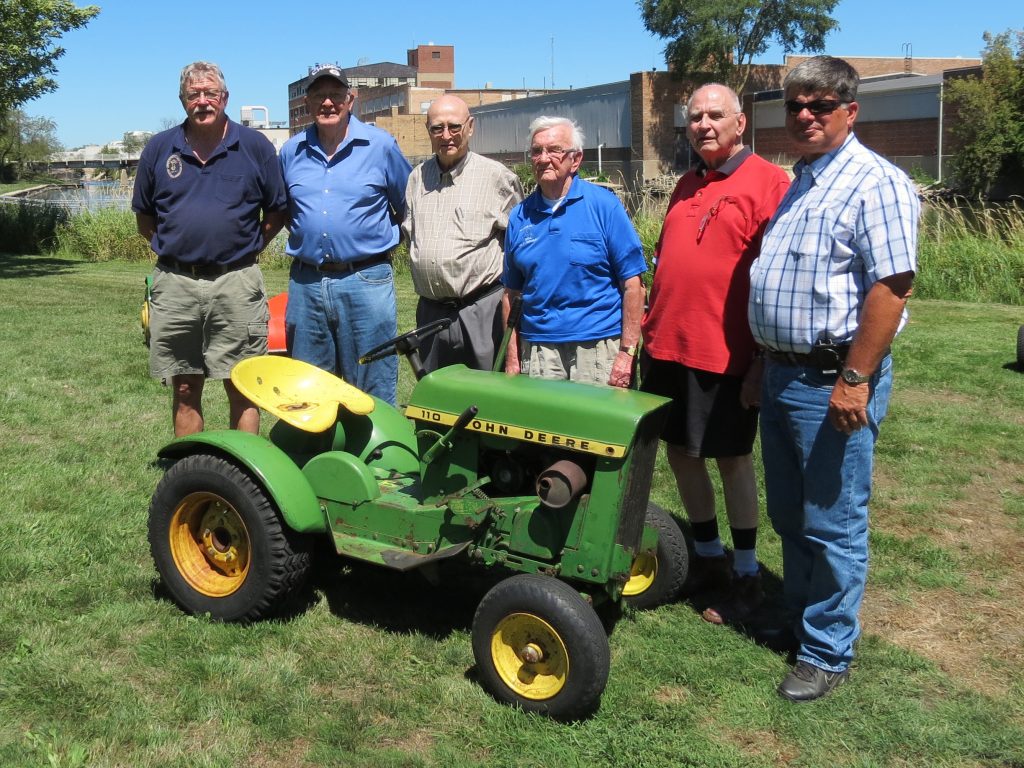 In addition to completing the release of the drawings, I also helped anyone needing information that enabled them to prepare for production. For three and a half months, I worked 12- to 14-hour days, five days a week, and eight hours on Saturday. After leaving work on Saturdays, I headed back to my old residence in Silvis, Illinois, to spend Saturday evening and Sunday with my family. Being away from home allowed me to spend additional time on the project.
As sections of the tractor were completed, drawings were released to build parts for the production of new prototypes, of which four or five were made. Drawings were also being released to the tooling and methods departments. We were also testing the drivetrain on a treadmill 24 hours a day. The vendors made changes as needed to correct the problems that occurred.
Initially, our biggest problem was with the durability of the variator assembly. The bearing in the center section of the assembly had a very short life due to the high compression load on the center components of the drive. This caused rapid wear of the center sheave's bushing and the hub of the variator assembly.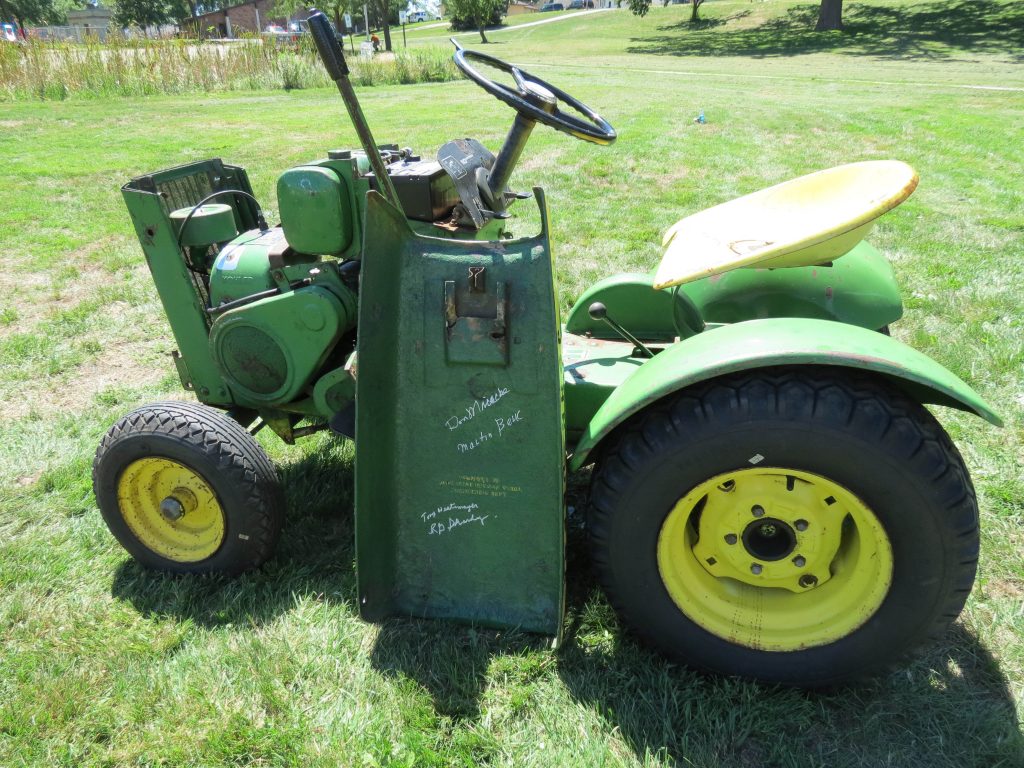 The problem was fixed by heat treating the hub and grinding the outside diameter to a very close tolerance and then chrome-plating the outside diameter surface of the hub and bearing assembly. The original bronze Oilite bushing of the center sheave and bearing assembly was replaced with a heat-treated iron Oilite material.
The bushing inside diameter was sized to a very close tolerance by burnishing the bore after it was pressed into the center sheave. To fix the lubrication problem under high operating temperatures, we packed the grease cavity in the center sheave with track roller grease. The same variator part numbers of the components were used during the entire lifespan of the variator assembly which carried into the 200 series lawn and garden tractors into the 1980s.
Gerry Buelow, who also transferred from the Industrial Equipment Works, was assigned to work on the mower attachment which was initially a timed, two-blade deck. After completion of several prototype lawn and garden tractors and mower decks, Gerry was sent to Laredo, Texas, to try out the machines at Deere's testing site.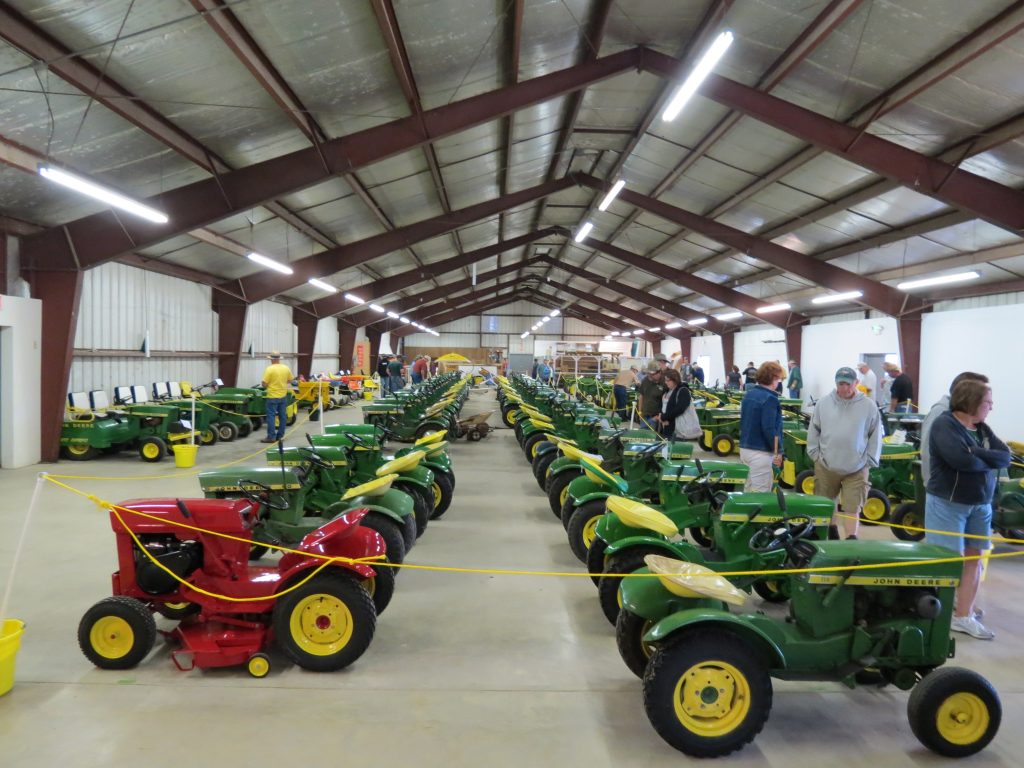 Fortunately, the mower deck was damaged by hitting an obstruction with the blades which destroyed the gearboxes and damaged the deck. It was better to know that this deck was not going to work before we went into production.
We decided that it was not feasible to used timed blades on a rotary mower, so we went back to the drawing board and designed a three-bladed deck that worked well during testing. Testing was also being performed on a plow, disc, and other equipment during this time period.
Once things warmed up in the spring, we continued testing in Horicon. Prototype machines were given to several of our branches for their evaluation. We continued working and testing and improving until we felt that we had a well-designed machine for our dealers to sell to their customers. We released the project for production to start in July of 1963."
 Want to read more articles like this? Be sure to check out Lawn & Garden Tractor Magazine at http://www.lagtmag.com/