August 31, 2020
Couple Finds Buried John Deere "Treasure"
A metal junk pile in your backyard hardly seems the place to find anything of value, but that's what happened for a lucky couple in Kansas. Kimberly Whiteman wanted to make better use of her backyard by removing an old pile of junk and replacing it with a pool for her children. 
"The previous owners had an area where there was metal and glass, where they burnt their trash and we had let that become overgrown," Whiteman said.
 Whiteman noticed large sheets of metal sticking up out of the ground. She tried to remove them by hand, but it proved  too difficult.
 "My husband is a farmer and has a high loader so he said he would just dig it up," Kimberly  said.
 Kimberly's husband started by scooping up the large sheets of metal that were sticking up at the top. As he continued to dig, he dumped all the metal out onto the ground. That's when they both noticed something unexpected.
 Whiteman said, "I looked down and saw there's some words on there and was like what is that?"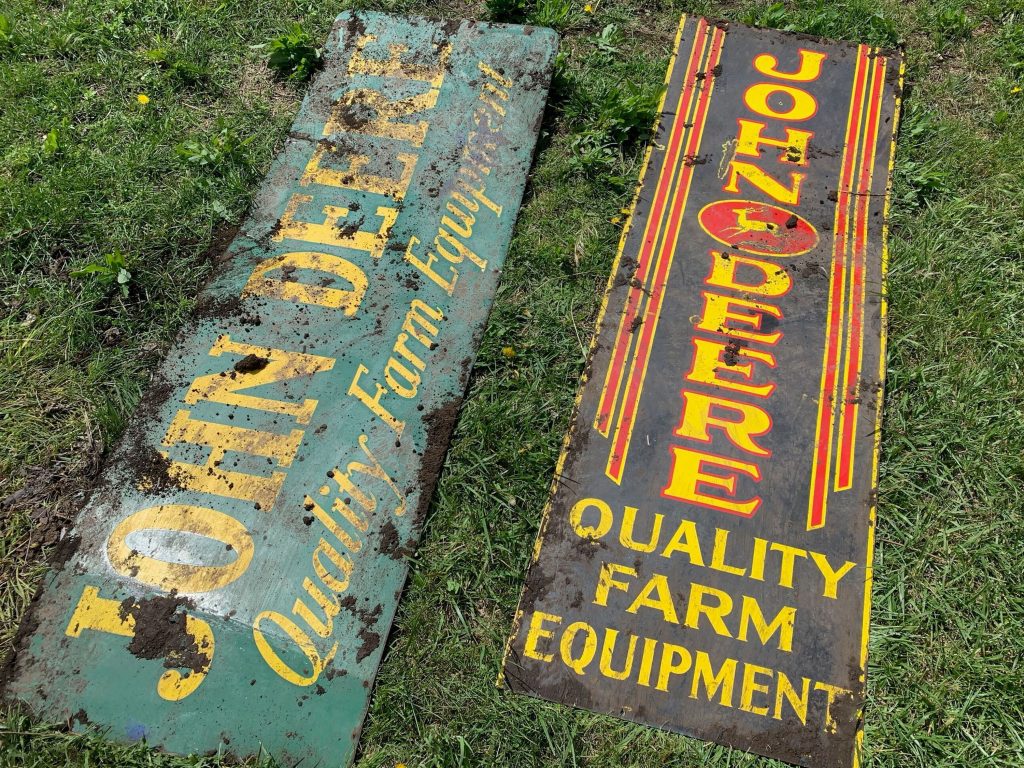 She moved some metal pieces to the side to uncover two John Deere signs. Initially she thought that was unique, but didn't think anything more of it. Kimberly  planned on hanging the signs up in her boys' room or in their garage. It wasn't until she showed some pictures to her family that she realized the signs may be worth something.
You'd think that metal signs that had been exposed to the elements for years would be in terrible condition, but the Whitemans were pleasantly amazed with how great they still looked. 
 "I was surprised they were in such good condition until I did some research and found out they are porcelain which doesn't rust," Kimberly  said.
 After doing some research, Whiteman called Aumann Vintage Power about selling the signs at auction and quickly learned how rare they are.
Roger Johnson, an auction manager with Aumann Vintage Power who specializes in antique signs, literature and memorabilia, took the call.
"I was intrigued. We get a lot of calls at the office, but you hardly ever get a call like that. She says she dug up these John Deere signs in her backyard and wanted to know if it would be worth her wild to sell them at auction," Roger said.
Roger told Whiteman to send her some photos and he'd get back to her. When Roger received the photos, he immediately knew one of the signs was something special.
"The first thing I noticed was the vertical sign. John Deere didn't make many vertical signs and this one was porcelain and double sided. I knew it was a rare sign from the 1920's," Roger said.
The other sign is a green horizontal sign with John Deere Quality Farm Equipment in yellow lettering.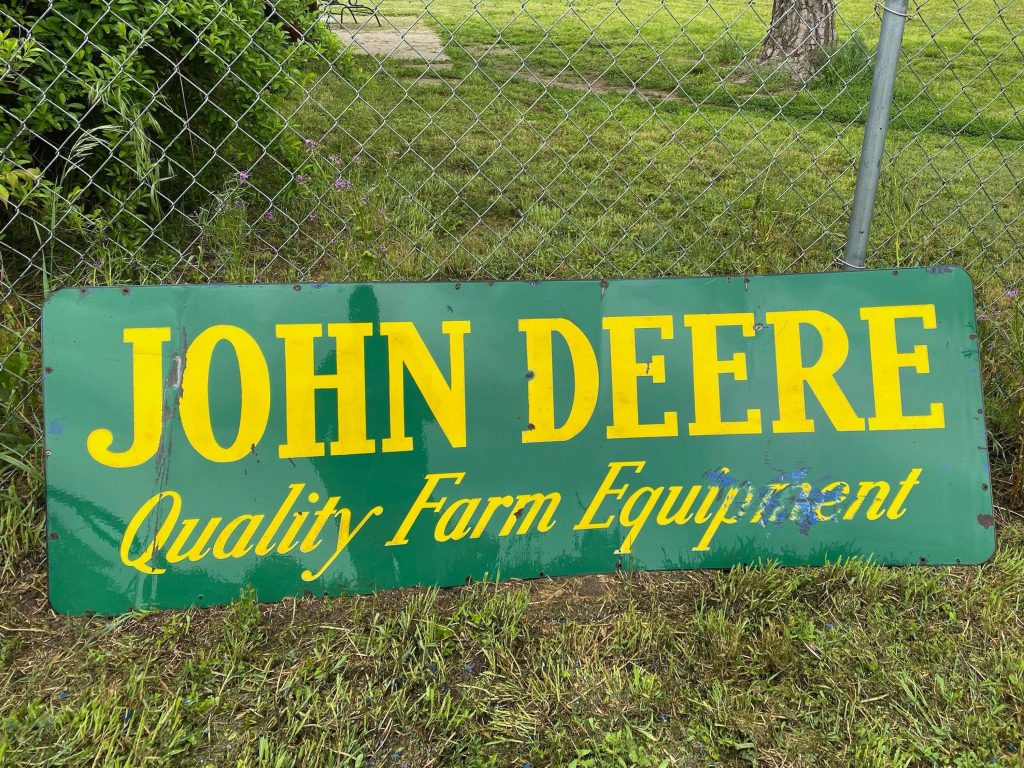 "The other sign is also very desirable to collectors, but definitely more common," said Roger. 
Roger knows John Deere signs. He grew up working on a farm with John Deere tractors and frequently drove a model 620. It was those years working with John Deere tractors that led him to collect John Deere memorabilia. He's been collecting for almost 40 years and has amassed an impressive collection.
"I called her back right away and told her she had some valuable signs worth thousands of dollars. And that we'd love to sell them for her at auction," Roger said.
Finding out the signs were worth thousands of dollars made it an easy decision to not keep the signs for herself. 
Roger told Whiteman he had an auction coming up that would be perfect for her signs. He conducted the Premier Deere Literature and Memorabilia Auction in December of 2019, which was a great success. After the momentum of the auction, Roger had more collectors come to him with items to sell, so he decided to have another auction, The Premier Deere II Literature & Memorabilia Online Only Auction. It's on this auction Whiteman will sell her signs. 
 "It's always hard to tell what something will bring at auction, but early John Deere memorabilia is hot right now. I think the Whiteman's will be satisfied with the final selling price," Roger said.
Thinking back Whiteman reflected on how these signs ended up there in the first place. The man who owned the house before the Whitemans bought a building in town that was an old John Deere dealership.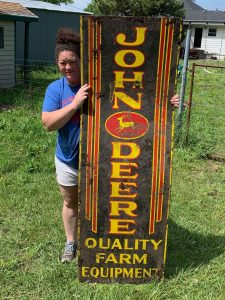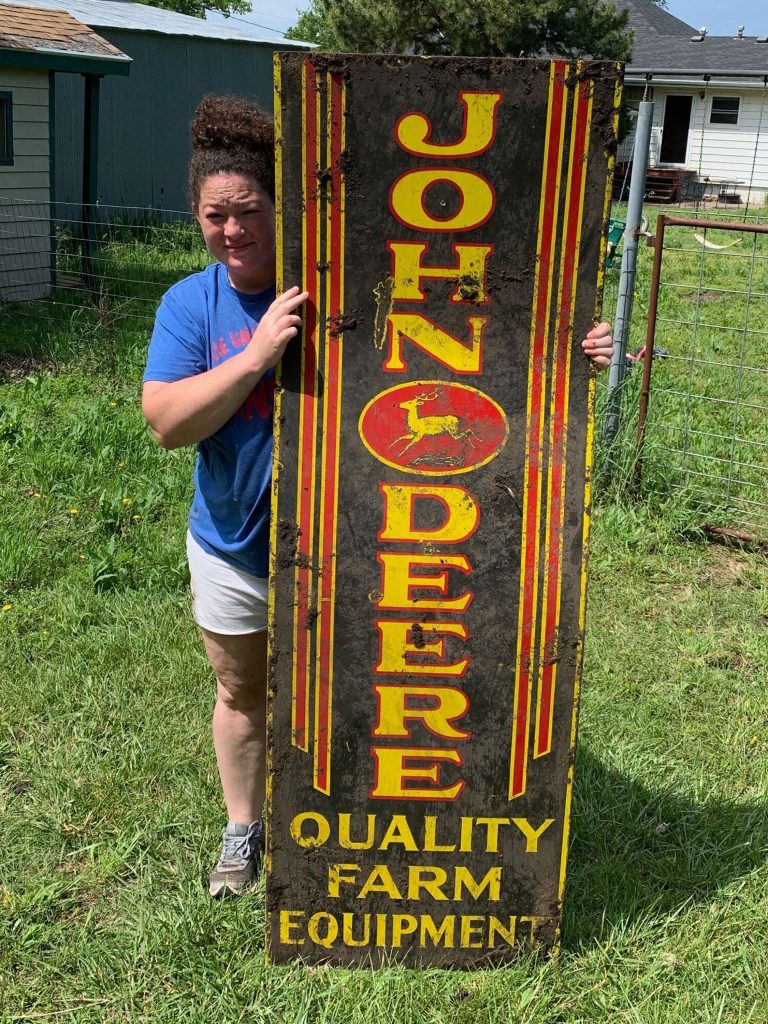 "It was my understanding that he got the signs from the dealership and used them for his own repair business which is why there is some blue paint on our signs," Whiteman said.
 Luckily for Whiteman the previous homeowner dumped the signs in the junk pile leaving her with a unique find and extra money in her pocket.
Whiteman will soon find out what those signs are worth when they sell on The Premier Deere II Literature & Memorabilia Online Only Auction, ending on September 13, 2020.
The signs are just two lots of hundreds of John Deere items selling on the Auction. The items range decades of the John Deere company from the 1890's up to the more recent past. Not everything will bring thousands of dollars either. There is surely something for every collector no matter what your budget. 
 Follow this link,  https://www.aumannvintagepower.com/project/details/51474 to see the full auction catalog.